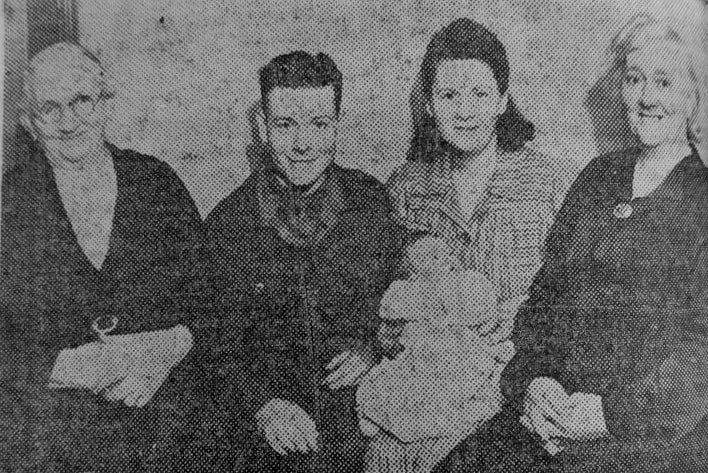 Personalities in this story of five generations in one family (pictured above) are:
Child
One-month-old Thomas Whittaker (78, Loversall Street, Denaby.
Father
Nineteen-years-old Thomas Whittaker, 78, Loversall Street, Denaby, a craftsman in REME stationed at Blackdown Camp, near Aldershot, Hants.
Grandmother.
Thirty-six years old Mrs. Annie Whittaker, 4, George Street, Denaby, wife of a maintenance fitter as Messrs Dale, Brown's, Swinton.
Great Grandmother
Fifty-six years old Mrs Mary Kelly, 29 Tickhill street, Denaby
Great-great-grandmother.
Seventy-five-years-old Mrs. Anne Dolly, 2, Marr Street, Denaby, whose husband, Mr. John Dolly, a collier at Cadeby Main Colliery, died in March, 1930.
Grandmother Whittaker, who, when interviewed by a 'South Yorkshire' reporter on Tuesday, was nursing her youngest child, one-year-old Peter Whittaker, said she could not recall anyone in Denaby who had previously had five generations living in one family at one time or a woman who was a grandmother at such a youthful age.
'Thomas, my eldest boy, was married last year at St. Alban's Catholic Church, Denaby,' she said, 'and before joining the Army at 18 he was learning his trade as a fitter at Dale, Brown's.'
Great-great- grandmother Dolly, who said she had lived in Denaby 46 years, said she had had 11 children, of whom 8 are still living, 38 grandchildren and one great-great-grandchild.