South Yorkshire Times August 16, 1947
"Second Dunkirk" Rail Smash – 68 victims
Man and Wife in Seven Local Casualties
Another, Widow A Week
The 68 victims of Saturday's rail disaster,at Balby, south of Doncaster LNER station included a Swinton man and his wife, and a Mexborough woman among the 18 dead and a Thurnscoe man and his wife among the 50 injured. A fourth fatally injured – widowed exactly one week – was the Peterborough daughter of this Thurnscoe woman and another was an old Mexborough grammar school boy from Rawmarsh.
In the crash, which occurred at Balby Junction signal box, the 1:25 p.m. express from King's Cross to Leeds ran into the rear of the 1:10 p.m. from King's Cross.
"A second Dunkirk," was the description given in an exclusive "South Yorkshire times" interview with a Denaby man, to the scene after the smash. This witness was waiting for his family arriving from London.
The Victims:

local fatalities were:
Mrs Olive Wilson (44), Sydney St, Swinton
Willie Wilson (44) her husband
Mrs Martha and Morris (56), Dolcliffe Road, Mexborough
Mrs Edna Jepson (30), Alma Street, Peterborough
Thomas Daniel Brown (22), assistant role, Dale St, Rawmarsh, an old boy of Mexborough Grammar School.
Injured: Charles Crookes and his wife from Thurnscoe
The Dead
A member of Mexborough Active Service Committee and the former British Legion woman section, Mrs Martha Morris, Dolcliffe Rd, Mexborough had been staying at Gillingham with her son Mr William Edward Morris and was returning home after a holiday. Her son-in-law and daughter of Mr and Mrs Wilde also from  Dolcliffe  Road were at Doncaster station to meet her, but hearing of the disaster, Mr Wild went along the line to try to find his mother-in-law, but was unable to do so. Mrs Wilde subsequently identified his mother at Doncaster infirmary.
Mrs Morris had lived alone since the death of her husband, Mr Miles Morris, three years ago.
Mr and Mrs Willie Wilson, Sydney Street Swinton, were returning from a fortnight's holiday at Yarmouth, Isle of Wight. Mr Wilson formerly had a milk business which he sold to all the British cooperative society, and became one of their first dairy employees. In the Swinton district he was Rota Inspector. He was a native of Piccadilly, when his widowed mother, Mrs Edith Wilson, still lives. He was a member of Piccadilly Tennis Club.
Mrs Olive Wilson was from Lincolnshire, before her marriage was a mental hospital nurse. They had no family, and were identified by a brother-in-law, Mr Rawding, Queen Street, Swinton
Waiting For His Family
Mr Croydon, of Denaby was waiting for his wife and family who were returning from holiday. "My wife had said she would return on the 1.10 from King's Cross," Mr Croydon explain, "but I thought nothing of it when it was announced that the stationmaster is wanted urgently. When I saw people running up the line from the Balby site, however I asked what had happened. I was told of the collision and immediately ran down the line to the scene of the accident. It was like a second Dunkirk."
With dead and injured lived by the railside waiting to be carried away in improvised stretchers, Mr Croydon, a qualified ambulance man took part in rescue work and administered first aid, all the time dreading that his wife and children on the train. "A doctor gave me the responsibility of seeing that the more serious cases were removed to Doncaster infirmary for people with minor injuries," he said. "As far as I know, my jacket is in the infirmary, for I pillowed an injured man with it."
"There's daddy!"
Inquires about his family elicited the information that a woman and two children have been taken to Conisbrough. As his wife was accompanied by their three children he thought it unlikely that this will be the day, I was going to nearby houses to make further enquiries when train stopped and a voice called "Oo-er, look mother, there's daddy."
Turnaround, Mr Croydon at a compartment window. He turned his back to the train for there were tears of joy and sorrow in his eyes.
"When we reached home, my wife explained that she couldn't embark on a 1.10 at King's Cross because it was full. Mr Croydon said she could have caught the 1.25, that would have meant walking right round the rail station so she waited for the 1.45 which stopped at the next platform."
Neither of them slept that night for the sight they had seen was still before their eyes
Bevin Boy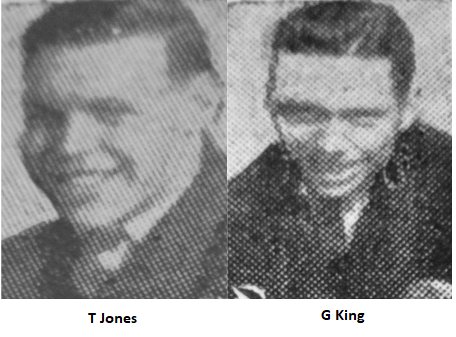 A Bevin boy, Mr Gordon King, (22), 86 Brunswick Street, Thurnscoe, and his friend Mr Thomas Jones (21), 12 Church St, Thurnscoe, who were standing in the corridor of the first train when the accident occurred, were returning from holiday at Mr King's Northampton home.
They were first out of the compartment and took an active part in rescue operations although they were suffering from shock. Mr Jones broke his wrist watch and tore his clothes.
Their only complaint was that when they reached Doncaster's Station, grimy and weary, they were charged for a wash and brush up!
"When the collision occurred," Mr King told the "South Yorkshire Times on Monday, "women and children scream, and the majority of the people are coach stood there this they did not know what to do.
The coach left the rails, swayed as if it was going to fall on its side, and then for a fraction of a second hung at an angle on four of its eight wheels. Beads of sweat appeared on men's faces before the coach fell back upright."
When Mr King got out of the carriage he was unaware that collision had occurred and thought that the train had merely left the rails. When he turned around he was horrified see the tangled mass of wreckage which lay on the track.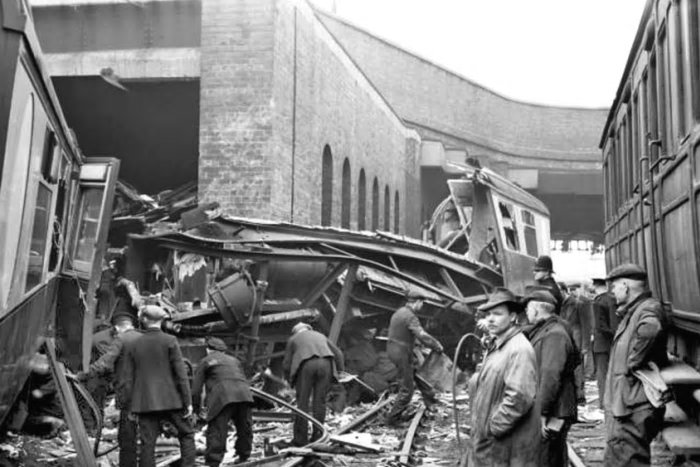 Photo from:
From YouTube: