South Yorkshire Times April 26, 1947
'Take Off Your Hats!'
Denaby Hail Arthur Roberts' First Managerial Season.
Possessing their best playing record for many seasons and a satisfactory balance Denaby United Football Club were in happy mood at their annual meeting on Sunday. Mr. J. Clarke said they should 'take off their hats' to the management. They were all young blood. Killourhy had been an outstanding player and Denaby had 'a darned good team.'
New President.
The club elected as president Mr. Matt Taylor, former secretary-manager, team player and captain, who referred to his 20 years' association with the club. Mr. Arthur Roberts was re-elected Secretary-manager, Mr. B. Lupton, Financial Secretary, and the Management Committee was appointed as follows: Messrs. A. Logan (who presided), W. Manion, J. Carte, T. Shephard, G. Whitehead, W. Carter, A. Lote, W. Fletcher, jun.' W. Dudhill, W. Holmes, J. Taylor, H. Peters, J. Scott, S. Price, H. Hayward and R. Burns, with one nominee from Denaby and Cadeby Miners' Welfare Trustees.
The financial statement, presented by Mr. Lupton, showed that on April 6th, 1946, the club had in hand £67 14s, and on March 29th last £148 balance in hand and £27 13s. 1d. cash in hand. Workmen's contributions amounted to £332 6s. 1d., Midland League 'gates' to £837 15s. 11d., F.A. Cup 'gates' to £114 8s.1d., and Sheffield Senior Cup 'gates' to £4 5s. 11d. For the transfer of Lennon, Denaby received £500, and total income had been £2,178 14s. 3d. Wages had cost the club £1,259 19s. 6d., travelling £112 11s. 9d., the hire of buses £120, and linesmen and referees £46 4s. 10d.
Eight To Play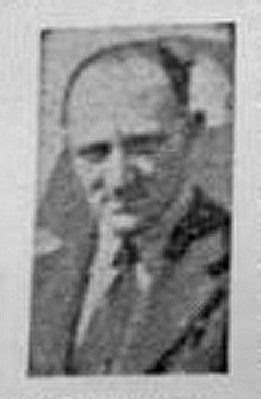 Mr. Roberts (picture) said the club had still eight games to play. To date they had played 34, won 15, lost 14, drawn five, scored 86 goals and had 87 against for 35 points. Killourhy, 20 goals and two cup goals, and Wright, 19 goals, were leading goalscorers, and Asquith had played in the highest number of games.
'We set off pretty well to start the season, but we did not keep it up,' Mr. Roberts said. 'By Christmas we had played 19 games for 20 points. On New Year's Day we transferred Lenon and after he went we played five matches, all away, and lost five. We gained financially, but lost from a playing point of view. Since January 25th, however, we have lost only once – against Barnsley – and have gained 15 points from our last 10 matches.'
He thanked the old committee for their assistance.
Mr. Roberts said it was hard to get players; all the local clubs had players on amateur forms, and during the past month he had been after two players, but they were on amateur forms. They had one or two weak positions in the team, and since Lennon went they had not really filled the inside left position.
'Really Successful.'
Mr. W. Lawley said that in his first season Mr. Roberts had had a really successful season. 'Denaby has a good team at the side of competition in the Midland League to-day. It is a strong league and the clubs are paying big wages,' he added.
The meeting endorsed the action of the committee in electing Mr. T. Shephard, former chairman, and Coun. R. H. Shephard, former secretary-manager, life members, and also elected Mr. L. Mosoley, a former trainer, a life member.
On the motion of Mr. T. Wakefield, a vote of thanks was passed to the groundsman, Mr. A. Green, and those who had helped him, and on the motion of Mr. Matt Taylor it was agreed that letter of thanks be sent to Denaby United Supporters' Club, the miners of Denaby and Cadeby Main Collieries and to Dr. John McArthur (hon. surgeon).