South Yorkshire Times, February 9, 1957
Denaby have scored 17 goals to 1 in their last three home games
Denaby United 6   Wisbech 0
                       Cliff Martin in Action

Denaby United certainly proved that their six goals against Grantham were no myth! It was pretty much one-way traffic after the first probing attacks by Wisbech at Tickill Square, on Saturday and three goals in each half (including a second hat-trick in successive weeks by Cliff Martin) made it 17 goals in their "for" column in the last three home fixtures! Good stuff for their "customers"! (Scarborough 5-1, Grantham 6-0 , Wishbech 6-0).
This was a repeat of the Grantham game – with differences. In the first place Wisbech had 11 men throughout the game (as compared with Grantham's 10 for 60 minutes of the match) but principally this meeting with Wisbech packed all the punch the Grantham game lacked – and that was curious considering the heavy going underfoot.
The Constant Factor
Scott, Wisbech goalkeeper, puches clear to beat Egan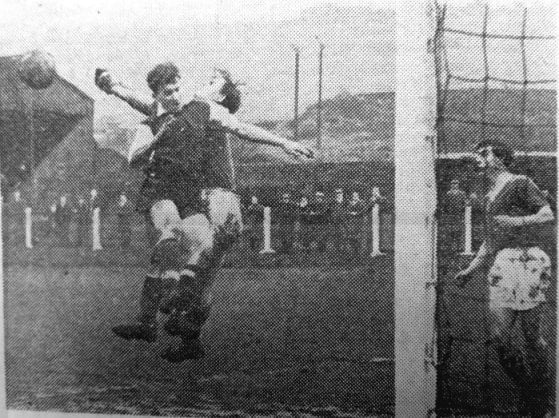 The constant factor was Denaby's all attack policy. It was good to see this shooting in for 90 minutes, and although the six goals were shared by three forwards, Martin, Lambert, and Holmes, again a tremendous amount of work was done by the other two, Duggan and Egan. Duggan made one very memorable goal – Lambert second. It was he who worked for the chance, it was he who lifted the ball into the goalmouth to a nicety. It was Egan who tried to head a winner, but the ball was partly held by goalkeeper Scott and subsequently it bounced on the crossbar before falling again into the goalmouth. Where Lambert collected, positioned, and shot hard.
Another memorable goal was the first one of Martin's trio. Holmes had the ball out on the wing and had a clear target at which to shoot. But he saw that Martin was well placed in the goalmouth and sent him one of those "dotted line" inswingers which Martin met with his head beautifully.
The Goals.
Holmes got the first Denaby Goal in the fifth minute following a lapse by Scott. 19 minutes later Lambert whipped in a low ground shot and after 31 minutes Martin headed a goal to complete the first half trio.
Lambert made it four after 53 minutes and after Martin had scored again in the 75th minute he completed a hat-trick 60 seconds later.
Wisbech promised a good deal more in the first 10 minutes and they fulfilled at any time in the game, and it is difficult to re-collect one hard, direct shop. The Denaby defence cruised home with a strong but unhurried performance, and a team switch by the Cambridgeshire side in the second half failed to add any more points for United to cope with. This made 75 goals from 29 matches and it was Martin's 25th league goal. Lambert has now scored 15 and Holmes 12.
United are still fifth ranking goalscorers in the Midland league – only leaders Rotherham and Peterborough, Corby (fourth) and Grimsby (seventh) have scored more. And Saturdays "gate" was up again nice going, Denaby!