Mexborough and Swinton Times March 3, 1917
Gallant Conisbrough officer
Local brewer dies of wounds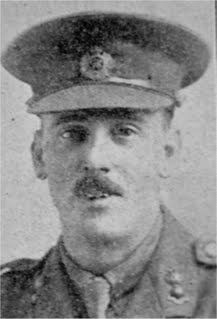 Lt Winter Nicholson (Royal Engineers) of Avelands, Bawtry, Doncaster, elder son of Mrs Nicholson of Rock House Conisbrough, and of the late Mr GT Nicholson, has died of wounds received in action in France.
Lt Winter Nicholson, who was 34 years of age, was a director of Messrs Whitworth son and Nephew Limited, Wath on Dearne, and before he joined the Army he took an active part in the management of the breweries of that firm. He was manager of the Doncaster branch until an early stage of the war, when he came to Wath to take over the duties of the maltster, Mr Clarence Utley who joined the Army. About 18 months ago he threw up his work, and joined the Royal Engineers, rapidly qualify for a commission. He had been several months in France when he received injuries which resulted in his death on 10 March.
His brother Mr Morton Nicholson, was in Germany studying trade processes in connection with brewing when war broke, and he has been interned at Ruhleben ever since.
Lt Winter Nicholson was home on leave last January. He leaves a widow and three children. A very interesting letter with reference to Mr Nicholson has been received by Mr Richards, stationmaster of the G C station at Wath, from quartermaster Sgt H.Lee (Royal Engineers) a former member of the station staff, who was with Mr Nicholson during the greater part of his active service, was present when he was wounded and subsequently attended his funeral. Quartermaster Sgt Lee writes:
"The friends of Mr Nicholson will be shocked to hear that he has made the extreme sacrifice. He was killed in action last evening, and I have seen the chaplain this morning and told him I intended asking permission to pay my last respects on behalf of a staff who came daily in touch with Mr Nicholson in civil life. He was just the same gentleman out here and we all knew him to be at home and was deeply respected by everyone who came in touch with him. With his own particular section of men there existed a feeling which amounted to far more than respect, and as one of them whom I spoke this morning put it, `we have lost the best friend we shall ever have, and the company has lost the best officer and gentleman, and then he added with much feeling, `the best always seem to go first."
Mr Nicholson was always interested in the news from Wath, and always greeted me with" well, what's the latest?" And then a chat about Mr Oakley, Mr Stone or Mr Smith. I shall carry my mind the spot where Mr Nicholson is put to rest, and probably when this horrible business is over the resting place may be of some interest to his many friends."