South Yorkshire Times, April 22, 1967
The New £50,000 Club with a Wealth Of Facilities
Premises more up-to-date than any for miles around, entertainment six nights a week, and the lowest membership fee of any club in the area – these are offered by Conisbrough's Mona Working Men's Club in their new £50,000 premises. The new premises, which have now been in use for some weeks, were officially opened last night by Mr Frank Wood, for 27 years secretary of the club, at a special members only and invited guests night.
Membership of the club is only 2s. for a man and 1s. For a woman. Which is less than half the fee charged by some clubs in the area,
For this, members get a concert room to seat 400 with all the latest stage equipment, including electric organ. Resident organist and drummer; an upstairs lounge to seat 50, looking out on to ancient Conisbrough Castle; a games room, which, it is hoped will soon hold a billiards tables and other equipment; a snack bar where members can get chicken sandwiches, mussels and the like; and thriving sections including a noted angling section.
Mr Joe Jones, a trustee of the club and member of the angling section, tells me that the section is about to launch into deep sea fishing; quite a novel activity in the area.
The club was first started in 1919 by a small group of Conisbrough miners in the premises next door to the new club. An extension was added at the rear during the 1926 Gen strike and was later turned into a concert room, membership rose, and just before the new premises were ready, it stood at about 400. In the few weeks since the new premises came into use, membership has more than doubled, and now stands at almost 1000 membership may soon have to be closed, as the club set an upper limit of 1000.
The club, situated as it is on the main Sheffield Doncaster Road, it is in great demand by coach parties from other clubs. Mr Jones said: "we welcome anyone who wants to come and have a look at our club any night of the week. Arrangements can be made with the security."
He added: there is entertainment of some kind and every night of the week except Tuesday, we have our resident organist and drummer, auditions on Wednesday, and booked artists on Thursday, Friday, Saturday evenings and Sunday noon and night.
President of the club, Mr Bill Baxter, said this week: as far as I can remember it has been the club's aim to expand on the adjacent land, but until comparatively recently, it was occupied by private houses. About a year ago, we managed to obtain it and it was possible for for new club plans for the new club to go ahead.
"Of course, we have had problems," he added, "but they had been overcome.
"We are grateful to everyone who has helped make the new Mona possible. The opening is being performed by Frank Wood, a man who has given the club a lot of devotion and hard work over the years."
South Yorkshire Times, April 29, 1967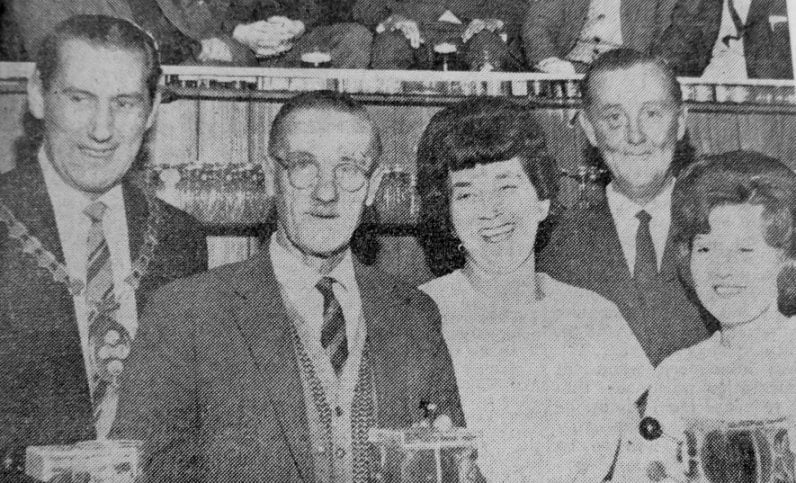 Mr Frank Wood, secretary of the Mona WMC Conisbrough, for 27 years, is seen formally opening the new club premises on Thursday.
Also in the picture are County Councillor A. Hayward (chairman of Conisbrough U. D. C.), Mr B Butler (the chairman), Mrs May Sissons and Mrs Phyllis price.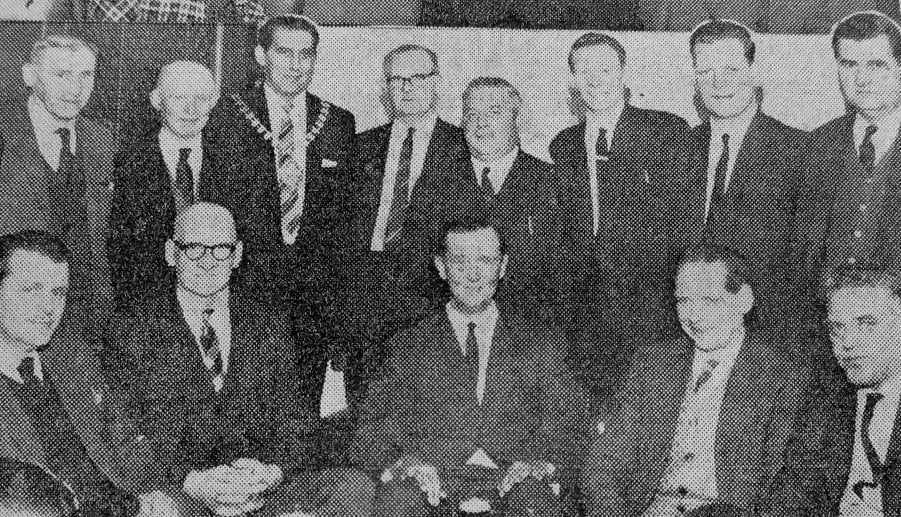 In the picture are committee members, trustees and chief guests
Visitors at the ceremony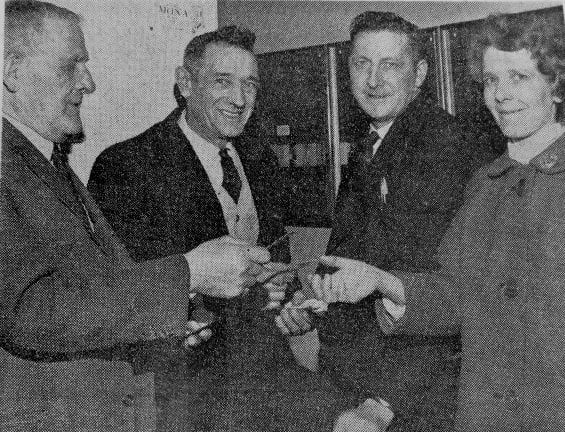 Mr and Mrs Fred Jackson receive refreshment tickets on arrival from Albert Martin (doorkeeper) and Harry Sykes ( committee member)