Mexborough and Swinton Times October 26, 1907
William Lawley,
Denaby United.
who for nearly fifteen seaons has served with the Denaby Club,
and for half a season was included in the ranks of Barnsley.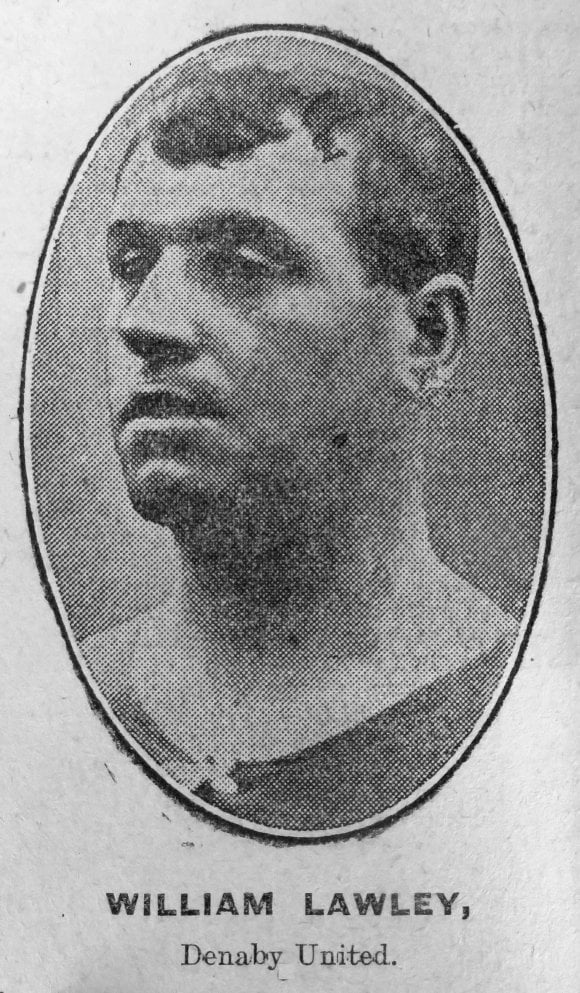 Strong of arm and stout of limb,
Steady as a summer shower;
Full of vigour, full of vim
With a kick of four-horse power.
Sturdy form that looms up great,
in the nippy forward's eye,
On it comes with ne'er a wait,
And the forward's chance goes by.
Fond of work, ,and fond of play,
Fond of everything that's good;
Yet his football's fair as day,
Dirty play's not in his blood.
Heavy as a country squire,
Jolly as a landlord gay;
Happiest when thick with mire,
Quite at home amid the fray.
Though we quiz and though we joke,
Though our quips do raise ,a laugh,
Lawley keeps on showing folk
That he's still the team's main "Staff."
Green and piebald fourteen years,
They have covered Lawley's back;
Still those colours Lawley steers,
Steers them on the winning tack
He's a famly man, and so
Is not quite gone football mad;
But, though getting on, you know.
Still remains—a local lad.