South Yorkshire Times June 7, 1947
Risked Lives for Dog
Denaby Man and Constable Get RSPCA Medals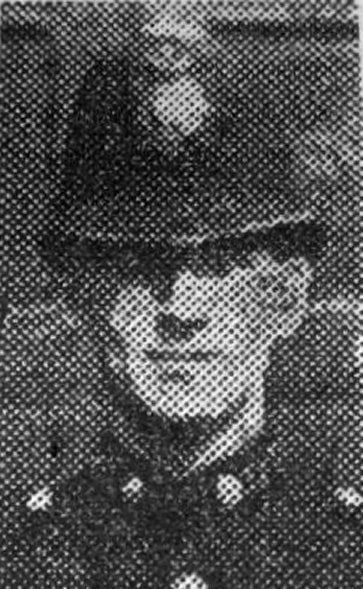 Two heroes of a dog rescue in the flooded river Don at Mexborough during the March floods were honoured at Doncaster West Riding magistrates court on Saturday when the men, Mr Thomas Edward Wakefield, (39), lorry driver, Ferry Villas, Conisbrough, and PC Frank Stancliffe, stationed at Denaby, received medals and certificates of merit awarded by the R.S.P.C.A.
A round of applause broke the normally solemn atmosphere of the court as their awards were handed over by the chairman, Col. W. st. Andrew Warde-Aldam.
"Very gallant deeds," the chairman said.
He read from statements made by both rescuers. At 7 a.m. on Tuesday, March 18, Mr Wakefield's statement declared, he heard the barking of a dog, which was trapped in bushes in the flood waters at Red Rose playing fields. The water was 8 feet deep and rising.
"There was numerous people nearby," the statement added, "and as I had no costume I had to go some distance away to get undressed and enter the water. This was about 100 yards away from the dog.
"I swam across two fields, released the dog and let it swim to a place of safety.
Onlookers were whistling the dog towards them, he said, but the dog changed its course and swam towards another thorn hedge, where it again settled among the bushes.
"By this time" Mr Wakefield continued, "I had lost my top dentures and received severe scratches on my body in my efforts to release the dog. So I swam back to the canal. "I heard that PC Stancliffe was coming along. So I left to carry on with my work." The tale was taken up by PC Stancliffe, who, on his arrival, saw there were no volunteers among the sightseers and heard that the dog had been there through the night. "So I improvised a costume from a sack," PC Stancliffe stated "and I swam out to the dog with a length of rope. I tied the rope to the dog and got the spectators to haul it to safety."
PC Stancliffe statement concluded: "on examining the collar I found there was no name of owner. So I took the dog to the Denaby police station."