South Yorkshire Times August 24, 1957
A Conisbrough Show House
In order to instruct tenants of Council houses in the use, maintenance and cleaning of various household fittings and appliances, Conisbrough Urban Council are opening a new house on the Low Estate for public inspection next week.
The house is one of 70 on the estate and has been decorated and furnished.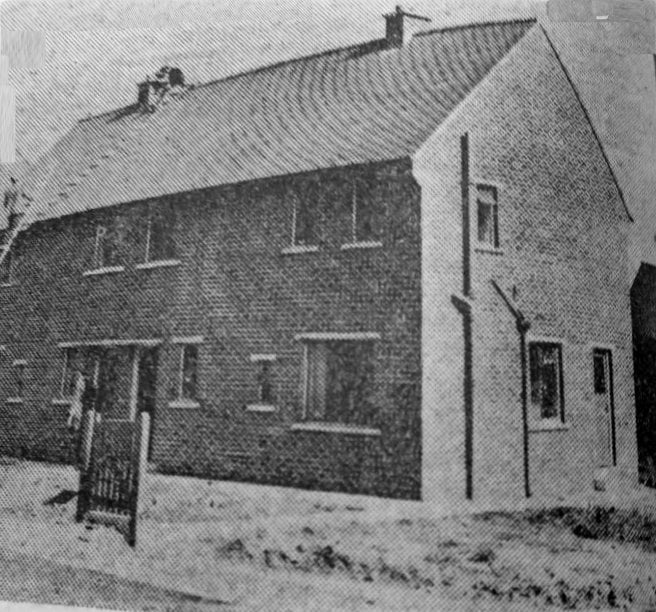 A show house on the Low Estate, No 2, Lilac Grove
Doncaster Cooperative Society Ltd are responsible for the furnishing. Except for a few minor items, all the furniture onshore is produced in the C.W.S. workshops. No items have been ordered specially for the showhouse. All are available from Doncaster Cooperative Society's large stocks on show in the emporium and on available to the public.
The entire scheme is in contemporary style and a special feature is a six piece television suite. The settee can be broken into four easy chairs. A 21 inch console television set is also on view.
An interesting feature of the kitchen furniture is the use of tubular steel.
A new furniture colour "Royal Tan" can be seen in the bedroom suite.
The house has two large bedrooms, a small bedroom, a living room, a kitchen, entrance hall, pantry, indoor coal house and a store room. Under the staircase has been left open for an additional store cupboard if the tenant wishes to use it as such. The upstairs toilet is separate from the bathroom.
An interesting feature of the house is a 2 inch fibreglass quilt fitted above the bedroom ceiling. This has the great advantage of preventing the heat escaping through the ceilings.
The windows of the house have steel frames and for the first time in Conisbrough Council Estates, the bathroom has been tiled.
Electrical appliances have been supplied by Messrs Hobson and Scott Ltd, Electrical Engineers, and contractors, of Chippinghouse Rd, Sheffield, who have been responsible for the electrical fittings of nearly 14,000 houses in this district and as far away as Burnley, Loughborough and Wakefield. They have also completed fittings in schools, public buildings and industrial works and have been responsible for power and lighting work installations at such places as Newton, Chambers and Co. Ltd, Thorncliffe.
The showhouse will be open for public inspection from 2 pm to 8 pm on Wednesday and Thursday, from 10 am to 8 pm on Friday from 2 pm to 4 pm on Saturday.