South Yorkshire Times March 12, 1966
In United's Palmy Days.
The photograph of Denaby United reproduced below  will recapture memories of some of the "good old days" for many of our readers.
It was loaned to us by Mr Paddy Windle, 42, Silver Street, Whinney Hill, Rotherham, who played for United for five years.
He told the "South Yorkshire Times" this week: "the photograph was taken in 1924 when we played Wombwell. The team think us more than £17 altogether and we always finished well up the Midland League.
"I was with Denaby for five years and played in 247 consecutive matches.
"There has been lots of talk recently and some good-natured betting, about the transfer of Jack Barker and where it was he signed for Derby County." Said Mr Windle. The transfer took place in Montagu Arms at Mexborough. "We won the Mexborough Challenge Cup that year, beating Wath and the man that sold Barker was the late Percy Harrison."
An old aged pensioner now Mr Windle added: "Those were certainly the good old days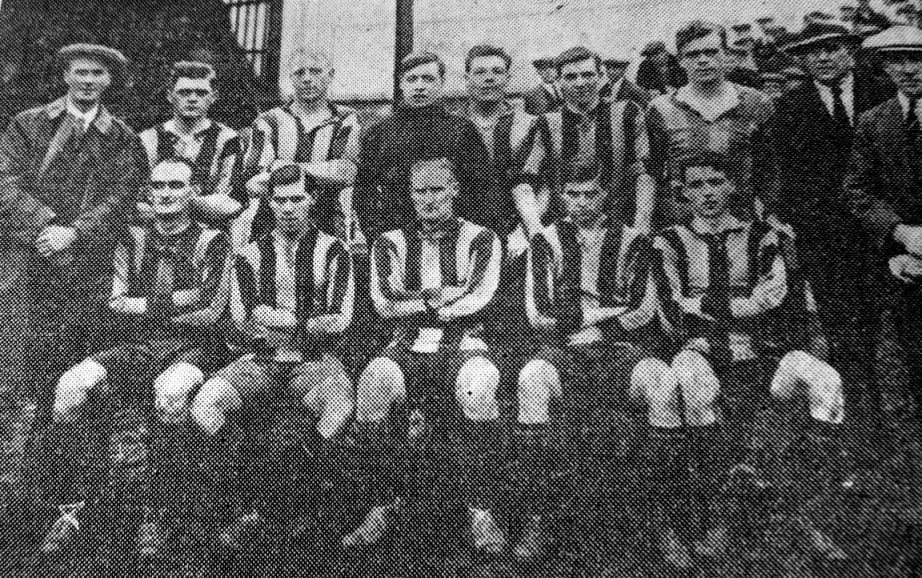 Team:
standing (left to right)Mr W Astbury, T Hawkins, D Shaw, G Bromage, M Hill, M Taylor, P Windle, Mr T Gregory, Mr T Peters
seated: Picknet,  W Brayshaw, G Burkinshaw, W Forden, T Cooper