South Yorkshire Times April 18.
Ambulance Brigade awards at Conisbrough. 

The ultimate aim of the Conisbrough Division of the St John ambulance Brigade is to possess permanent headquarters said Divisional Superintendent J.Hall S.B. at the division´s annual tea and presentation of awards on Saturday.
Mr Hall, who presided over a company of about 100 members at the Division and their guests, said that he had always been the aim of the Division to possess permanent headquarters in which all divisions of the Brigade could be brought together.
"We are hoping to build up our forums until this ambition can be realised," added Mr Hall. Before building could be started a lot of things are to be sorted out. Wo plans were in hand as yet .
Replying to Ambulance Officer T.Holmes, who had proposed the toast, "The Guests", councillor, Mr J Stewart, chairman of Conisbrough Urban Council, said: "the organisation in Conisbrough, is in need of all the support and help it can get, and we as members of the local Urban Authority are always anxious to give all the help we can."
Plea to Youth.
Cllr Stuart added a special appeal to young people to show an interest in the Cadet Corps. "This part of the St John organisation is in need of a lot of support," he said. "From their ranks will be built up the Ambulance Brigade of the future."
Reply to the tells, "The St John Ambulance Brigade," Corps Superintendent C.J.Pickett, M.B.E., M.C., O.O., Said that Conisbrough and other local branches were doing well and were flourishing. He added that Conisbrough would be one of the finest Divisions in South Yorkshire. "We would like more support for our nursing section," peace added. This has been a flourishing concerns his 1913 and we certainly shouldn't neglect it now.
"One source on which they could rely to provide the other section with top quality recruits was a busy Cadet section."
The Loyal Charles was proposed by divisional superintendent Hall. Other toasts the brigade by Mr D.J.C.McCaskill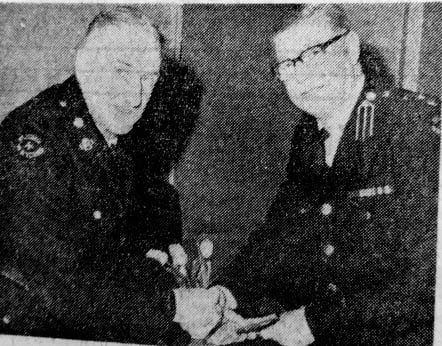 Pte. Alfred Laughton of Conisbrough S.J.A.B. receives a fourth bar from Area Commissioner N Hulley