South Yorkshire  Times March 7, 1959
Chance Encounter Brings Conisbrough Men Together in Singapore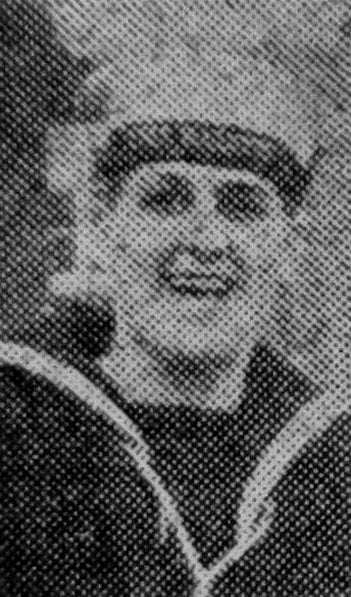 Senior Aircraftsman David Kelly ( photo right) was being shown round H.M.S. Crane at Singapore by his step-sister's pen friend when he saw a familiar face among the seamen. He turned to his companion and said "I know that sailor, he comes from Conisbrough." The person he recognised was Seaman Joseph Hill (photo left ), who is serving in the ship.
David, who is 21, is the youngest son of Mr. and Mrs. J, Riley, of 5, Lewes Road, Conisbrough and is on a five years regular engagement in the R.A.F. Joe, also 21, is the eldest son of Mrs. V. Hill and the late Mr. J. Hill of 13, Athelstane Road, Conisbrough, is on a nine years engagement.
News of this meeting reached Mrs Riley in a letter this week. David, a motor transport mechanic, also told her of another big event out there. He is in the Choir School a' St. Andrew's Cathedral. Singapore' and was present when the Duke of Edinburgh attended a service at the cathedral during his recent visit.
David's brother, stepbrother and step-sister are all in the Forces. Step-brother John Riley (22), is Senior Aircraftsman and is serving in the trade as fireman/driver at Royal Air Force Ouston, near Newcastle-upon-Tyne. His 23-years-old brother John Kelly is also a Senior Aircraftsman and is a motor transport mechanic at R. A. F. Topcliffe, near Thirsk. His step-sister, Joan Riley (24), is a Wren in the W.R.N.S. and is serving in H.M.S. Drake at Portsmouth.
Before joining the R.A.F. David was in the Butchery Department of Doncaster Co-operative Society at Warmsworth.
Mrs. Hill told our reporter that Joe had been in the Navy for two years and at Singapore for 18 months. However, since he first arrived there he had also been out to New Zealand and Australia.
"He has met two or three local boys out there and he was very pleased to see David," said Mrs. Hill.
Joe, who was a miner at Cadeby Colliery before 'joining the Navy, will be back in England in May.