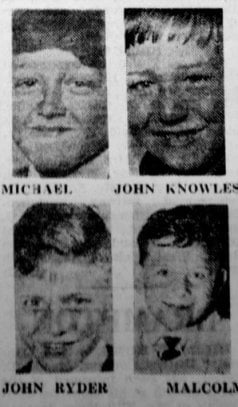 South Yorkshire Times, August 29
Children's Efforts
Four Conisbrough boys were so interested when they heard that an Aunt of one of them looked after handicapped children, that they decided they'd just had to do something to help people less fortunate than themselves.
So John Knowles (8), Malcolm Miller (9), and Michael Rowe (8), of St Peter's road, Conisbrough, and John Ryder (10) of Prior Road, staged a "king sized" sale of jumble, which was a complete sell-out, and raised £5 12s 6d to send to a deserving cause.
Afterwards the lads asked the "South Yorkshire Times" for the address of a local society for the handicap, and the Chesterfield and District Society for Spastics was chosen.
Malcolm Miller's mother, Mrs Isabella Miller, of five St Peter's Road, explained on Tuesday, "The boys just came up one day and said they wanted to hold a jumble sale to help crippled children. I think it was partly because they knew that my sister works in a London nursing home for handicapped children. All last week the boys went around collecting jumble. There were some very nice things indeed on the stall."
The sale in the backyard of Malcolm's home, was open for about two hours on Friday afternoon, and everything was sold, together with ice lollies may by Mrs Miller and the buns and refreshments made by Mrs Miller and the rest of the mothers – Mrs Margaret Rider, Mrs Elsie Knowles, and Mitchell Rowe's grandma, Mrs Olive Sissons, of 2 St Peter's Road.
Other helpers were Michael's sister, Janet Knowles, with Jennifer Mallin of 4 Prior Road and Lynn Graves of 8 St Peter's Road.
Č