South Yorkshire Times March 26, 1955
"Cinderella" at Denaby
On Tuesday Wednesday and last night, Denaby and District Operatic Society, presented the pantomime, "Cinderella," in the Baths Hall, Denaby.
Of the cast, Muriel Brooks, who portrayed Prince Charming, gave the best performance. She had a good strong voice, which carried to the back of the hall, and her singing was delightful. Doris Clark made an attractive Dandini and Buttons was played by Harry Goddard, a special favourite with the children of the audience.
The Baron and the foot man, played by Clive Sutton and Joseph Beasley, were quite good, although their voices were too low to the he heard clearly at the back of the hall. The part of Cinderella, played by, Iris Harrison, was very well rehearsed, but I'm sure that anyone sitting any further back than the first four rows would have been unable to hear a word either spoken or sung by her.
Penelope and Hygenia the ugly sisters, played by Emily Hepworth and Reg. Atkinson were very noisy. And the part of Betty, played by Doreen Wilkinson, was very well done.
Yvonne Owen made an attractive fairy, and her voice was very clear and melodious.
The feature of the evening, which almost "brought the house down," were the bagpipes – a rather unusual sight in Denaby. Hyper and. B. Steele of 30, Lower Dolcliffe Road, Mexborough, has played in the pantomime "Goody two shoes," which had a three months run at the Sheffield Empire and is a former Cameron Highlanders Piper. His son, Mr. Tom Steele, was drummer.
To complete the Highland team there should have been two more drummers from Sheffield but they were unable to attend, and Mr. Steele,senr., tramped around Conisbrough and district trying to find a couple of Boy Scouts who would be willing to play the drums. He managed to get in touch with Mr. Vic long, John Maher of the S.J.A.B., Denaby, and Joyce Walker, age 14, and Rita's dual, 16, completed the team. To say that these two young girls only knew half an hour before that what they were to play, the applause they received was terrific.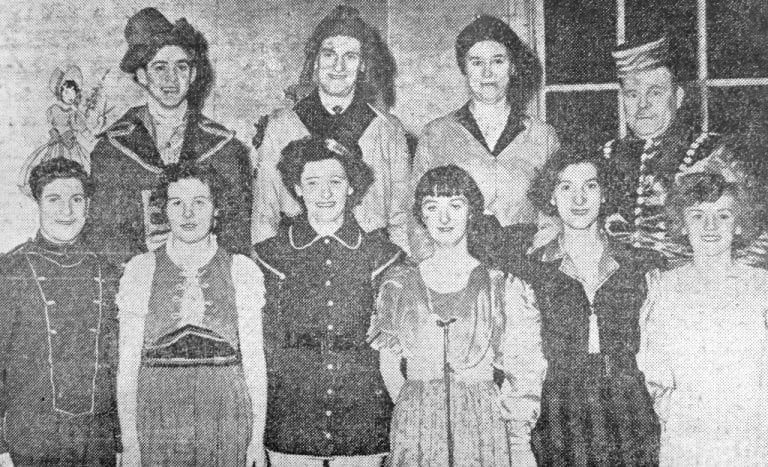 Principals in Cinderella Producion
Cast Members in Rehersal
Members of the chorus were:
Girls – P. Sidway, P. Wall, M. Jackson, F. Bransby, P. Rich, M. Barnett, K. Richardson, R. Bates, J. Needham, J. Perry, G. Jones, J. Ingston, B. Corney, J. Scott, S. Goulding, E. Lee, I. Cook;
Boys – G. Simpson, T. Hackett, T. Cowling, T. Williams, B. Round, J. Parkes;
The dancers, under the supervision of Miss Joan Briggs, were V. Ashton, M. Chapman, M. Evans, M. Elsey, M. Hughes, A. Lunn, V. Lapidge, D. Poynton, J. Pears, J. Roberts, F. Would, P. Turton, J. Bunting, V. Carter, J. Clerehugh, L. Freeman, J. Clover, W. Hebert, A. Wharton, F. Morris, C. Harry, F. Robinson, D. Stirland, and D. Smith
The officials of the society are: hon. Set., Mrs. M. D. Brady him; Hallam. Trees, Mrs. E. Perhaps worth, electrician, George Kurt 10; stage manager, Bill Ward; whole stewards, Messrs A. Pugh, W. Rich and hate. S. Chapel; and wardrobe mistress, Mrs. G. Pugh. Members of the social committee, who prepared tees, where mesdames C. Slingsby, F. Toms, H. Brooks, F. Gregory, E. Richardson, and. Sheldon, and G. Williamson,
Members of the orchestra were Messrs. V. J. Castle, A. Wood, A. Ingham, and Peter Unwin was drummer. Mr. D. Jackson, Mr. H. Gothard and Mrs. L. Eaton were in charge of make up.