Mexborough and Swinton Times April 5, 1919
Conisbrough and Swinton V.C.'s
Investiture at Buckingham Palace
Impressions of a Great Occasion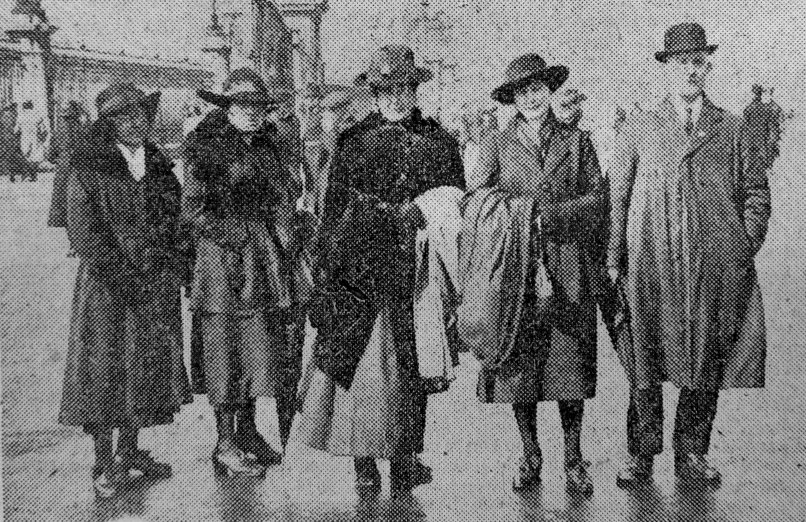 The Jackson family at Buckingham Palace
Left to right: Mrs. Vickers (aunt), Miss D. Matt (fiancee), Mrs. Jackson (mother), Miss Lottie Jackson (sister), and Mr. Jackson (father).
At Buckingham Palace .on Saturday the King invested Sergt. L. Calvert, of 19, Beech Hill, Conisboro', with his V.C., and Mr. and Mrs. Jackson; of 3, Market street. Swinton with the V.C. awarded posthumously to their son, L/Cpl. Thomas Norman Jackson.
Sergt. Calvert gamed his honour at Havrincourt, near Cambrai, on Sept. 12. 1918. The official account, whim has already appeared in these columns, is as follows:
"No. 240194. Sergt. L. Calvert M.A. For conspicuous bravery and devotion to duty in an attack, when the success of the operation was rendered doubtful owing to sever enfilade machine gun fire. Alone and single-handed, Sergeant Calvart, rushing forward against the machine gun team, bayoneted three and shot four. His valour and determination in capturing single-handed two machine guns and killing the crews enabled the ultimate objectives to be won. His personal gallantry inspired all ranks."
Sergt. Calvert's mother, accompanied by Mr. Calvert, her brother-in-law, of Leeds, proceeded to London on Friday night, and were there met by her son, who had travelled from a hospital in Bristol, where he is a patient. He is far from being well, and was accompanied by a V.A.D. sister and nurse. He returned to Bristol on Saturday night.
Crpl. Jackson joined the Coldstream Guards in Dec., 1916, and was trained at Windsor, Coverham, and Tadworth. He volunteered for active service abroad, and went to France on Oct. 5th, 1917. His first heavy engagement was at the battle of Cambrai, in Nov., 1917 and he was killed nearly a years later being buried at Hill cemetery, near Havrincourt. He was recommended for his V.C. by Captain C. H Frisby, who was also awarded the V.C. for the same engagement. Lieutenant Moore of Corporal Jackson's company who wrote sympathetic and congratulatory letters to Mr. and Mrs. Jackson, was killed shortly before the armistice.
The official recommendation for Cpl. Jackson reads as follows:
"For most conspicuous gallantry in the attack across the Canal du Nord, new Green court, on the morning of 27 September 1918. This Lieutenant Corporal for the 1st to volunteer to follow his Captain across the canal and rush the enemy machine gun post, which was holding up two companies on the far side. These two companies were under intense machine gun fire and trench mortar fire, and as the barrage was being lost it was essential to rush the post quickly, otherwise the whole attack on that flank would have been held up. The initial rush had failed owing to, thick wire near the canal, on which the enemy machine guns were trained. During the second rush Cpl. Jackson showed complete disregard of personal danger, and at once, with two others followed the officer across the canal, rush the machine gun, and cleared a crossing for the two companies. This N.C.O. was the first to jump in the German trench which the platoon had to clear, and after further excellent work was, killed. Up to the time he was killed he showed the greatest courage and devotion to duty, and showed an example to all ranks second to none."
The parents a short time ago received a letter from Lieut. Col. G.H.Crichton, commanding the Coldstream Guards at Headquarters, as follows:
"I am writing you in the name of the Coal seam Guards to convey to you and your family deep appreciation of the regiment for the gallant act for which your late son was awarded the V.C., and our very great regret that he has not lived to receive the honour which he nobly and deservedly has won. His name will live for all time in the regiment as one of our small band of heroes—seven in number—who have won in this great war the most coveted distinction that it is possible for the British soldier to get."
A letter from the King, and signed by His. Majesty, reads as follows: "It is a matter of sincere regret to me that the death of L/Cpl. Thomas Norman Jackson deprived me of personally conferring upon him the Victoria Cross, the greatest of all rewards for valour and devotion to duty."
Mr. and Mrs. Jackson, accompanied by their daughter, Miss Lottie Jackson, travelled to London on Friday night, and were met there by Mrs. Jackson's sister, Mrs. Vickers, a resident of Wimbledon, London, and Miss Daisy Flatt, of Kenley, Surrey, fiancee of the late Cpl. Jackson. They proceeded to the Palace about ten o'clock on Saturday, and were greatly impressed with the excellent arrangements made.
Mr. Jackson, interviewed by the "Mexboro and Swinton Times," 'said: `When we were asked for our admission tickets to the Palace, not having seen anything so grand before, we were rather flabbergasted. When we got inside, an officer—a general I suppose he would be – asked us what we had come for. We told him, and he then escorted us to the Assembly Room, and showed us our seats.
He looked at the list and said "I  see your son is in the Coldstream Yards. My father was in the Coldstreams and my grandfather as well." We told him that we would like to speak to Capt. Frisby, because, so far as we knew, he was the last to see our son alive.
The officer said he would mention the matter to the King. When Capt. Frisby was being presented with his decoration the King remarked that Jackson's parents were present and would like to have a word with them. The King spoke very sympathetically to us and said he was very sorry that the boy did not live, and it was a `very sad duty for him to have to perform. He made tender references to our son, and seemed very sorry for us. We were put quite at our ease throughout the whole ceremony; everything was just as homely as one could wish, and everyone was so kind and courteous. We thought the King, was dressed in khaki, looked extremely well. There was nothing snobbish about him, and we did not feel the least nervous. We saw Capt. Frisby after the ceremony, and asked him if he would come over and unveil the picture of our son when it was ready. He said he would be delighted, and it would be a pleasure to him.
Capt. Frisby ,said Norman was absolutely fearless, and after he had crossed the canal and Capt. Frisby had been wounded, he drew his rifle and bayonet- back and shouted, 'Come on, boys, let's go up to 'em.' There were twelve of them besides Norman, and they went forward and bayoneted the Germans. Norman was then shot. The other gallant chaps were wiped out also."
"Capt. Frisby," said Mr. Jackson, "is a most sociable man." whilst outside the Palace gates, when a Press photographer came up to snapshot: Mr. and Mrs. Jackson and their daughter, Capt. Frisby ran up and ,said "Wait a minute, take us altogether; we are all one family."
Mr. J. H. Bentley of Sheffield has been commissioned to paint a portrait of Corporal Jackson.