Mexborough & Swinton Times, June 16, 1906
Elsecar Feast.
A Trio Of Matches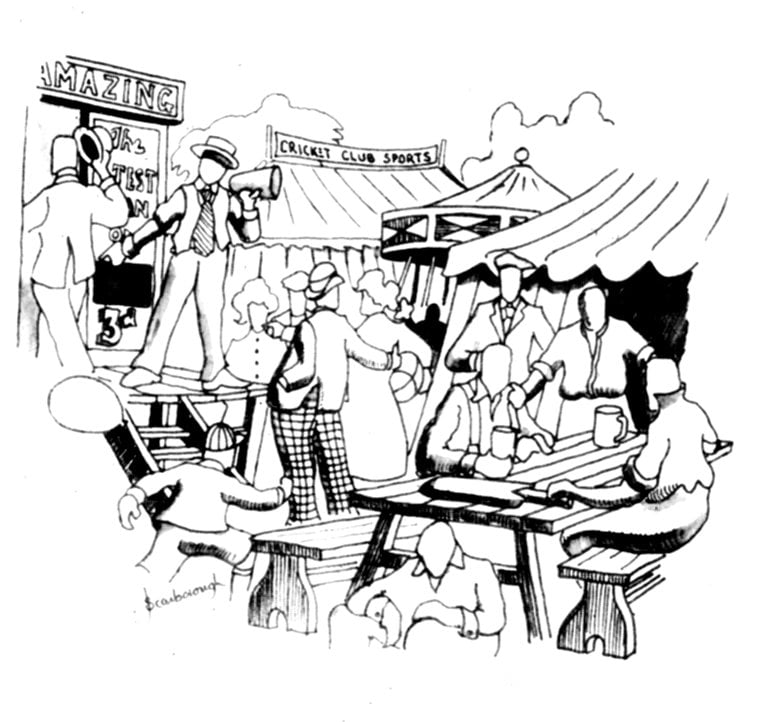 Note: Some 30 years ago I wrote a book about Elsecar CC and Joe Scarborough was kind enough to draw me this illustration – Never thought I'd use it again !
The utmost interest has been shown in this popular event by all classes. The recreation field has been the scene of much pleasure and enjoyment. All tastes have been catered for. Roundabouts, swing-boats, and up-to-date motor cars have had their usual attraction, whilst the cinematography has drawn crowds together. Needless to say, there has also been the usual conglomeration of coacoanut alleys, doll stalls, donkeys, ice cream vendors, etc.
The cricket club arranged a big programme. Three extra cricket matches is a big order, and crowds of people were present to witness the games.
The match on Monday was by far the most important on account of the fact that the committee had decided to give the proceeds as a benefit to Math, Hirst. Most readers of the 'Express' will know that Math has at last, after about 16 years play, severed his connection with the Elsecar club. No one regrets that step more than he does, but business has decreed otherwise. Math has, moreover, been a favourite with the supporters of the team, and the decision to recognise his service during the last 16 years of his connection with the club, met with widespread satisfaction. There was, the consequence a large crowd present to watch the proceedings. There was also the promise of a good game, as the opposing club was none other than Denaby United, whose standing in cricket is so well known.
Elsecar batted first, and had a bad beginning F. Bamforth, Rose, R. Marsh, and Woolley were disposed of for five runs. Bramah and Math, Hirst, however, made things a little better, adding 23 for the next wicket. The thermometer dropped again when but five more were added before Bill Bamforth was asked to retire. Eight wickets were down for 44. Fred Chapman and Sheldon, chiefly the former, then ran the score up to 71 for the ninth wicket, and 75 were up at the close of the innings. Scott took three wickets for 4 runs, and Robinson two for 8.
Denaby certainly started with an easy task before them, but Walker and Bramah stuck to their guns like 'mad,' and finally disposed of the lot for 48. Walker bowled 152 overs, 7 maidens, 6 wickets, 20 runs; Bramah, 15 overs, 5 maidens, 4 wickets, 24 runs.