Mexborough and Swinton Times November 17, 1906
Denaby's fine recovery.
A splendid victory
Bradford City Reserve 1 Denaby United 2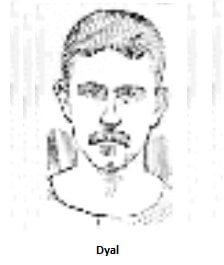 The unexpected reverse met by Denaby at the hands of Notts Forest reserve on Saturday was atoned for on Tuesday, when the "villagers" travelled to Bradford, and brought off a splendid victory over Bradford city reserve by two goals to one, this being the first home defeat sustained by the Bradford team.
Hopkinson started, before 1000 spectators, and throughout the first half Denaby were the better team.
After Hancock saved a long shot from Garton, Dyal and Hunter make some brilliant efforts. The former scored the first goal with a long cross shop, and Hunter followed two minutes later with a second.
Towards half time, Wise saved a fine shot from Harrop.
Early in the second half Hancock said a hotshot from Harrop. Then Chadburn eluded the United halves, and passed to Newton, who dashed in and scored with a left foot shot.
Wise made a magnificent save from Harrop.
Play became keen later on, and the home team made big efforts to equalise, but Westwood and Lawley were safe.