Mexborough and Swinton Times January 6, 1928
Denaby Retaliate.
A Pretty Display.
Denaby United 4, Mansfield Town 2
Denaby: Birch; Taylor, Hunter; Clegg, Ogley, Windle; Wroe, Johnson, Kelly, Ingledew, Jones.
Mansfield: Marlow; E. Jackson, W. H. Jackson; Baines, Roe, McKenna, Fisher, Sheffield, Morfitt, Bradley, Milner.
Mansfield were beaten at Denaby on Monday on a treacherous ground by good football. The match had to be watched through flying mud and threatening fog, and for the players conditions were terrible. Yet the display was one of the best given by Denaby this season. They jumped every hurdle and when they had a good lead did not slacken. If they had they would probably have lost. Mansfield are no mean team and at no time should liberties be taken with them. Denaby were severely handicapped throughout. Jones was injured in the first few minutes and was a passenger during the rest of the game. During the last 30 minutes Taylor was off the field with a cut on the forehead, so that Denaby finished the game practically with nine players.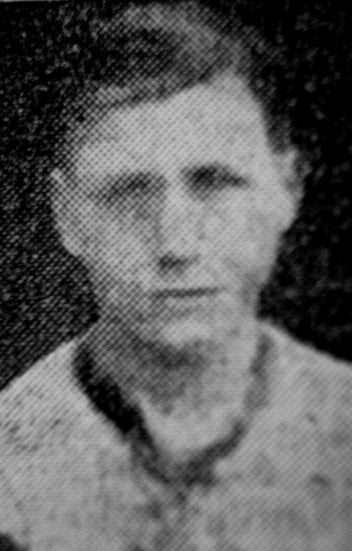 From the start the Denaby halves played a forceful game. After a few minutes they warmed the forwards up to similar tactics and then we saw football. The two Jacksons were hustled and bustled by Kelly and Johnson, whilst Marlow had an 'uncomfortable time but saved well again and again. The cause of Denaby's success was the splendid half-back play. It is rarely that even Ogley—who never plays a bad game—plays as well as he did on Monday, and he had splendid support from Windle and Clegg. (picture). The latter was a great worker and was just as successful as a back when Taylor left. Birch had not too much to do.
The first goal was scored in 15 minutes. After Marlow had partially cleared from Kelly the ball went to OGLEY who was immediately tackled by W. Jackson. He turned however, and scored with a swift shot. Ten minutes later KELLY hustled through and scored the second. Just before half-time three goals were scored in -three minutes but only two were allowed. Johnson went through and put the ball in the net but was offside. Immediately the three inside men: worked their way through again and INGLEDEW scored a minute later, BRADLEY reduced the lead.
Denaby were superior in the second half and with only four minutes gone KELLY broke away and scored the fourth goal. Marlow saved shots from all the Denaby forwards. Mansfield made a breakaway, Taylor was injured, and while he was down MORFITT beat Birch.