Mexborough and Swinton Times, February 3, 1928
Smart Denaby Work at Worksop.
Worksop Town 2, Denaby United 4
Worktsop: Best ; Hunt, Varney; Stanniland, Robinson, Gladwin; Matthews, Taylor, Kitching, Crownshaw, Jones
Denaby : Birch ; Taylor, Hunter; Clegg, 0gley, Windle; Wroe, Jenkins, Kelly, Brayshaw, Stevenson.
Referee: C. B. Dunnieliffe, Derby.
Denaby were the better team at Worksop on Saturday. They were superior in all departments and thoroughly deserved their win and every goal they scored. In a sea of liquid mud they frequently attacked and showed method and dash in every move. The Worksop defence was at times overrun. The Worksop forwards were well held by the Denaby halves with the result that the over-worked Worksop defence yielded four goals.
It was in the second half that Denaby played the better football. During that period they equalised the score – Worksop led 2-1 at the interval – and took the lead.
In spite of shocking conditions underfoot and heavy rain it was a good game to watch – 90 minutes of strenuous efforts, fluctuating fortunes of fast, clever, sometimes  brilliant, football. The Worksop players said after the match that Denaby were one of the best teams they had met this season.
There was a time when an easy win for Worksop seemed possible. But Denaby set about 'ern and, with Kelly keeping the play open and giving the ball plenty of air their fast-moving attack met with the success they deserved.. The result of their second half rally was that the Worksop halves collapsed and the backs were all hot and bothered. Worksop missed chances. On two occasions the ball struck the upright with Birch beaten; but all things considered no one would grumble about the result.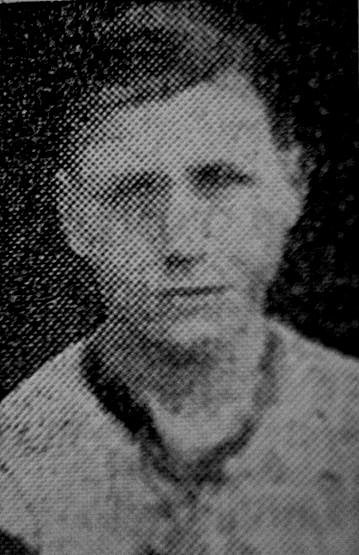 Most of the credit for the win must be given the halves. There were several "scouts" on the ground, and it is an open secret that they were interested in Clegg (picture)
What a great player he is! – And how much greater he would be if had a few more inches! Ogley had a day out (mud suits him!). Windle was a great success. Kelly impressed but Brayshaw was Denaby's best forward. Brayshaw's first goal—his team's third—was one that stays in the memory. It was a fierce first-time drive and the ball entered the net with the force of a cannon ball.
KELLY opened the day's scoring after good work by Wroe. Worksop's equaliser was novel. 'Birch had partially cleared from Crownshaw but Jones receiving close in, shot hard. The ball struck Birch's outstretched left hand and was kicked clear by Taylor but the referee ruled that the ball had crossed the line.
Crownshaw gave Kitching possession for the Grimsby schoolmaster to put Worksop in front. Kitching ran ahead and finished up with a splendid shot..
Kelly's goal immediately after the interval resulted from a very hard shot. Then came Brayshaw's memorable effort and the same player added a fourth goal in the closing stages .
Birch did his work well and the backs were quite steady. The halves were as good a line as I have seen this season. Not only did they turn attack cleverly, but the way they fed the men in front – and kept on doing it! – won general admiration. Not many forwards will have a joy day against this trio