South Yorkshire Times, October 3.
A Diamond Wedding at Conisbrough.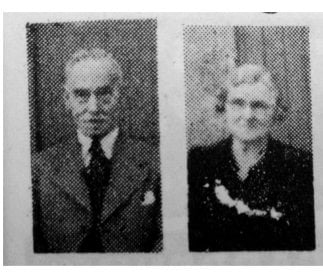 A former Denaby couple living on Conisbrough Windmill estate celebrated their Diamond Wedding on Sunday.
Mr and Mrs Charles William Wakefield, now of Old Mill Road, Conisbrough, were married near Brentford, Middlesex, and lived in Warmsworth Street, Denaby, for 46 years before moving to their present bungalow 11 years ago.
Mr Wakefield (80), is a native of Gloucestershire. He spent most of his working life at Cadeby Main Colliery, latterly as a contractor, and served with the K.O.Y.L.I.during the first World War, when he saw active service in Egypt, France and Belgium and took part in the battle of the Somme. Mrs Wakefield (81) was born in Middlesex.
The couple were formally members of Denaby Over 60s Club, and have now joined the Windmill Estate 60s. They have five sons, and one daughter, all married, 11 grandchildren and 10 great grandchildren.
Although their Diamond Wedding Anniversary was on Monday, Mr and Mrs Wakefield were entertained by their family on Sunday at the home of their son, Mr William Wakefield of Hamlyn Road, Conisbrough, and received several presents to mark the occasion.