South Yorkshire Times, April 12th 1969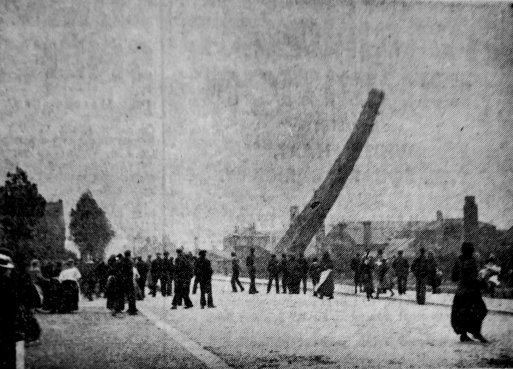 The Don Pottery in Rowms Lane, Swinton, was owned by Samuel, Barker and Son from to 1951 and in 1899 when the pottery chimney (above) was felled the bricks were used to build the cellars of ten houses which  are still standing on the photograph showing the felling of the chimney owned by Mrs. Nelson, Conisbrough.
Nelsons sister Miss Hood, of Low Road Conisbrough. has just Vacated a shop which was included in row of ten houses built by her father, Mr. Hood, were built just in front of the disused pottery which was built on land leased from Earl Fitzwilliam, and some of the buildings are still standing.
Mr. Hood converted the pottery offices into a mission chapel and conducted services there. The premises of Mr. D Tingle, scrap merchant are on the site Of the old  pottery and he has a fine piece of the old Don Pottery on show in his office.
Although much of the site has changed from the days of the photograph, Swinton Bridge School can clearly be seen on the Left hand side.This