Mexborough & Swinton Times, February 18 1927
Golden Wedding.
Conisborough Nursing Sisters Gift
Annual Divisional "Social."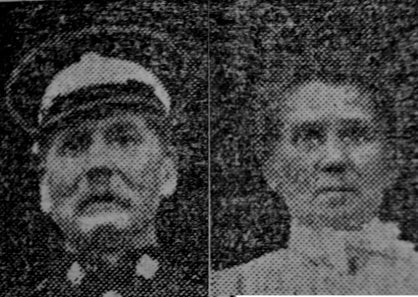 Mr and Mrs T. Harrison.
Mr and Mrs T. Harrison. 58, Northcliffe Road, who were presented with an easy chair to mark their golden wedding by the Conisborough nursing division on Saturday, are well known and are esteemed members of the Conisborough Division of the Denaby Main Ambulance Corps, both having been enthusiastic for the work for a great number of years.
They were married at Mexborough parish church on Christmas day, in 1876. Mr Harrison was born at Worsbrough Bridege in 1855 and Mrs Harrison is a native of Thornhill Lees, near Dewsbury, where she was born in 1852.
Mr Harrison was employed at Denaby main colliery until 1885, and was then employed by Mr B. J. Clarkson until 1901, when he returned to colliery work, and is at present employed at Cadeby. Mrs Harrison was awarded a medal for services rendered in the explosion at Cadeby in 1912.
The presentation was made by Dr W. J. McClure, who said the Nursing Sisters had thought fit to present one of their oldest members, one who had been an example to the younger members in never missing a meeting when physically able to attend, and one who had come when she might have had a good excuse for staying away, with a token of esteem.
They had purchased an easy chair which it was his pleasure to hand over to Mrs T. Harrison, to celebrate her golden wedding anniversary. Both Mrs Harrison and her husband were old and enthusiastic members of the division. He hoped that the chair which he was asking her to accept would be equally shared between them during the remainder of their lives.