South Yorkshire Times May 5, 1956
14 Goals In A Cup Final Were Good Value For Ninepence!
There was an air of "something came and got me in the spring" at Tickhill Square on Saturday, 14 goals in a cup final on an afternoon which saw the first full programme of league cricket was greeting indeed to the new season – and certainly good value for ninepence!
In this Youth Cup final Tom Hill Youth Centre beat Wath Park Road "A" 8-6.
For the first 15 minutes it looked very much as cell it was going to be one-way traffic, but Park Road firmly asserted themselves and the forward line treated us to some delightful football craft. Indeed, it was those two early goals scored by Tom Hill that counted in the end, for thereafter it was very much thrust and parry, and by and large the team scored goal for goal.
That's look at the tally, for it tells the story of the game: –
4 minutes, Tom Hill's outside left, Swan, scored via Wath Park Road left full-back Godfrey. The latter attempted to clear, but instead diverted the ball into the corner of the net – 1-0.
9 minutes. Tom Hill centre forward, Blackburn, scored against the advancing goalkeeper, Hyde 2-0.
12 minutes. Tom Hill outside right, Johnson, scored one of the best goals of the game – a header beautifully placed following a corner from the left –3-0.
15 minutes. The turn of the tide. Wath spent a long spell in the Tom Hill goal area and when referee Dobson told that Elliss, Park Road centre forward, had been unfairly bundled up the ball, Elliss himself took the penalty shot and scored – 3-1.
18 minutes. Tom Hill left half, Knaggs, sent in a long job which Hyde managed only to tip over his head into the net –4-1,
21 minutes. More Wath pressure on the Tom Hill goal when Elliss scored again – a very neat header –4-2.
23 minutes. Again the seesaw. This time Swann (Tom Hill) GC long ball down the middle and scored to make it 5-2.
31 minutes. Wath outside right, Watson, crashed a shot against the underside of the Tom Hill crossbar and the ball cannoned down into the net-5-3.
42 minutes. Swann gave Tom Hill a 6 –3 interval lead with a longer bleak shot.
57 minutes. Elliss (Wath) completed his hat-trick with a well taken goal to make it 6-4, but there was no respite for Wath.
58 minutes. Swann was back again to make it 7-4.
62 minutes. Allott made it 8 –4.
75 minutes. A penalty for "hands" against Tom Hill. Elliss took the kick and converted to make it 8-5.
76 minutes. Elliss scored yet again from a beautifully placed Richardson centre.
An now it was 8-6 with 14 minutes to go. There was indeed much activity in these closing minutes. Question was – could Park Road swing the issue? Seven minutes from the end it was still 8-6 and it looked very much as if their goose had been cooked when Tom Hill were awarded a penalty at this stage. To Park Road's delight Hirst placed it wide!
And there were to be no more goals.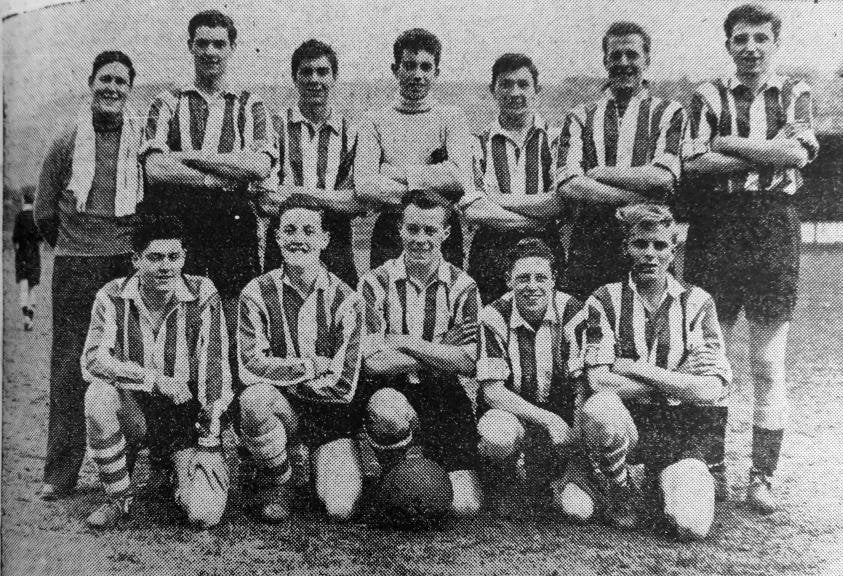 Tom Hill Youth F.C., Mexborough Youth League and Youth Cup winners, photographed before the Youth League final at Tickhill Square
Back Row: C Moss,   D Hirst,  K Mitchell,  W Hurley, M Knaggs, J Levers;
Front Row: A  Johnson,  E Jowes,  J Blackburn, N Allotts  and G Swan