South Yorkshire Times January 31, 1948
"Knew" When Sons Crashed
Queer Conisbro' Coincidence
Airman Tells of Escape from Blazing Bomber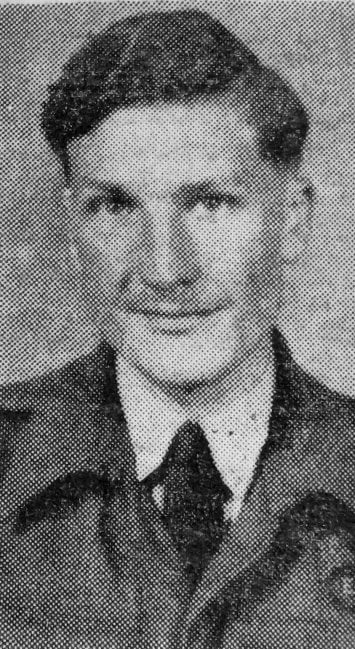 Aboard a Lincoln bomber which crashed at Hemswell R.A.F. Station near Gainsborough, on Friday, was a 22-years-old Conisbrough flight engineer, Sgt. Bernard Michael Donohue.      The aircraft carried bombs and 1,500 gallons of fuel — but Sgt. Donohue, and all his colleagues escaped unscathed.
Strange thing was that in Conisbrough, 35 miles away, his mother, Mrs. Doris Donohue, wife of Mr. J. T. Donohue, Cadeby pit worker, of 16, Athelstane Road, had premonition that her son was in an accident.
Stranger still—this was the second premonition Mrs. Donohue has had of similar circumstances. During the war she had a premonition when her elder son, F/Sgt. Reginald Donohue (27), air gunner-observer, was in a crash
"The amazing part is that although the aircraft was completely wrecked and the front half burned out, no injury was suffered by any of us and although we still had bombs and 1,500 gallons of fuel the aircraft did not explode."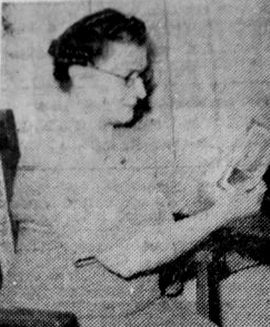 Mrs. Donohue with a photograph of her elder son F/ Sergeant B. Donohue.
Mrs. Donohue told me her story at her home in Conisbrough on Wednesday. "I had a feeling on Friday that Bernard was in trouble," she said. "I told father so, but he laughed my fears away and said, 'Don't be so silly.' On Monday we received this brief note from Bernard that he had been in a crash, but was all right.
"He had just gone to Hemswell from Lindholme. He joined the R.A.F. four years ago, at 18, and has four more years to serve. He gets married this year to a girl from Edinburgh. In joining the Air Force he followed his elder brother, Reggie, who has just been demobilised."
F/Sergt, Donohue, veteran operational flyer, twice Mentioned in Despatches and once commended by the Commander-in-Chief for valiantly endeavouring to recover the bodies of aircrew trapped in a burning aircraft which crashed on a seashore beset by quick-sands, was himself a crash victim.
Mrs. Donohue said one night during the war she heard cries of "Mother, mother, oh, mother." She awoke wakened Bernard and told him that Reggie had been in a crash down in the field. She insisted that they should get up and go to the bottom of the garden and this they did.
Later, fellow air-crew informed her that "Chiefy" Donohue had had near escape and was in hospital, Seven weeks later when she heard from him he told her that's the last thing he remembered was saying, "Mother, mother, oh mother." And now, here is Donohue's own story of his experiences last Friday, as related exclusively to the "South Yorkshire Times."
Engineer and second pilot of the heavy bomber, he said: "at 13.30 hours we took off and headed for Wainfleet for practice bombing. At 14.00 hours we were over Edlington, heading for Sheffield. At 14.30 we had to feather the port outer so we headed for home, We passed over Maltby 15 minutes later and on reaching base were told not unfeather our port outer but to land on three engines.
"We completed a normal circuit and were just on the point of crossing the boundary when we were caught by a gust of wind which caused our port wing to drop. This dropping of the wing brought us in line with the airfield controller's caravan and so to avoid hitting the van we had to open up, lift wheels and flaps and land straight ahead.
Upon impact the aircraft was immediately enveloped in flames and the cockpit was filled with smoke from the practice bombs which were still aboard,
"Approximately 30 seconds after coming to rest I was out of the aircraft. The skipper, who followed close behind me, was the last out.