Capture of Murphy at Kingstone Place
It would seem that after his (Murphy's) escape on Wednesday afternoon, under the circumstances detailed above, he must have made a circuit in order to get to Kingstone Place, where he had another obliging friend in whose house he knew he could obtain shelter. This morning Mr Supt Kane was led to believe, from reliable information received, that he was at Kingstone, and he lost no time in taking the necessary steps to secure his capture.
Five officers were told of for this important duty, viz Detective Inspector Ramsden, Detective Sergeant Lodge, Detective Sergeant Tideswell, and Police Constables Armstrong and Gray.The two latter were selected because the fleet of foot, and would be likely to give vigorous chase to anyone attempting to escape from their clutches. The officer drove to the house indicated in a cab. We have not yet ascertained the names of the occupants or anything about them further than they were friends of Murphys.
The house is one of a row on the left, or south, side of the road leading from the Bush Inn to the old toll house on the way to Dodworth bottom. They reach the house soon after 10, and their arrival, we need hardly say, cause no little excitement in the hamlet. Armstrong and Gray were stationed outside with a view to giving him chase should after being discovered he again attempted to escape.
The three detectives entered the house, and after satisfying themselves that he was not in any downstairs room made their way to the chamber above. Lodge entered first, closely followed by Ramsden and Tideswell. They once discovered the object of their search crouching down in a corner, and he levelled his gun at Lodge. The latter pushed aside the muzzle of the gun with the knob of his umbrella just as Murphy was in the act of pulling the trigger, and the charge went into the wall midway between Lodge and Ramsden. He then made a dart at Ramsden with the muzzle end of the gun, but the three officers closed with him, and after a desperate struggle secured him. He fought hard and kept firm hold of the stock of his gun to the last. He was securely pinioned, and brought to Barnsley in the cab, the Police Office being reached about 10:50..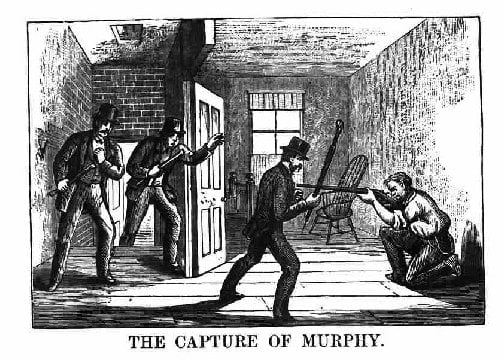 The news of his capture spread like wildfire, and the street in front of the station was speedily crowded with people, all curious to learn the particulars of his capture. He was lodged in a cell still securely pinioned, and was placed on the settle or bench on which the prisoners sleep. He seemed exhausted but cool and collected, and when spoken to replied quietly and calmly.