Mexborough and Swinton Times March 12, 1937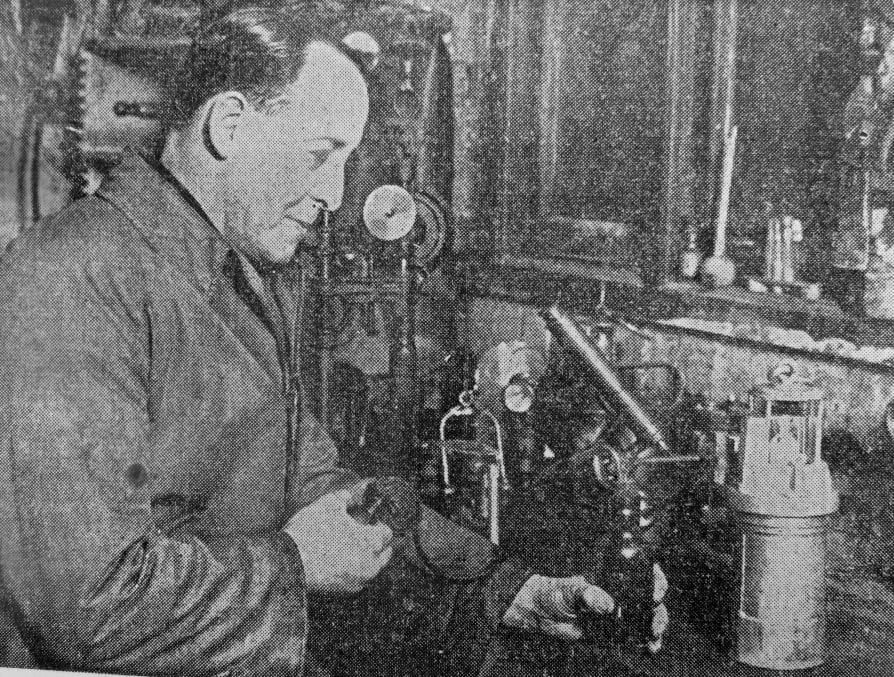 Mr. Gulliford testing his lamp by spraying it with gas.
Mr. A. G. Gulliford, of Lyndhurst, Doncaster Road, Conisborough, and formerly of Denaby, has a long list of inventions to his credit. He has invented and improved hair brush, a cup and saucer gadget, traffic indicators, and most important of all a number of safety improvement to miner's lamps.
He certainly should know his job with miner's lamps for after starting in the lamp room at Grimethorpe colliery, near South Elmsall, as a boy of 15 he later became, and has for the last 21 years been head lamp man at Denaby and Cadeby main collieries, and he has invented two devices which, he, and we all hope, will go a long way to make the pits of the world much safer. The first invention is a pit lamp bulb and the second is an automatic gas detector lamp.
The gas detector lamp has been demonstrated in gas chambers before experienced mining engineers, who are loud in their practice of efficiency, and Mr. Gulliford told the "Times" this week that the gas detector device adds only 4 ounces to the weight of a miner's lamp. The device is fitted to an ordinary miner's lamp, and allows the lamp to be manipulated by the miner in the ordinary way.
The lamp, Mr Gulliford said, would give its ordinary light throughout the working shift, and if gas became present a red light would appear inside the ordinary lamp glass. The ordinary light in the lamp will continue of course, but reflection was so arranged in the lamp glass that when the red light appeared the rays given out would make the lamp appear as if it was a red glow, so the miner would realise his danger immediately.
Mr Gulliford explained that the present method of detecting gas in the pit was by flame lamps, but that method he held, was really guess work. With his lamp, however, guess work would be eliminated. At the moment said Mr. Gulliford. "I am taking this part of the invention further and I am hoping before long to make some arrangement, whereby it will be possible to a certain the exact amount of gas present-a kind of register will be attached to the detector device".
In reply to a question whether he was entering for the £500 prize offered for the invention of the gas detector for use in mines, Mr. Gulliford one said that it would, of course, a pleasant and helpful to win such a prize, but naturally, the conditions about what the detector do were very drastic, and rightly so, and although his detector would do these things in a gas chamber there were several obstacles to overcome.
Mr. Gulliford, who has a workshop at his home where he spends practically the whole of his spare time and money in research work for safety in mines, has recently taken what he considers to be a big step forward in increasing safety in mines, by designing and inventing a special lamp bulb.
He has known in his past experience many cases where the glass globe of the miner's pit lamp bulbs have been broken and the wires of the bulb become pressed together, thereby rendering the lamp very dangerous in flammable gases, but by Mr. Gullifords invention a fuse arrangement in the bulb puts the current off immediately if the bulb filament wires come together.
The bulbs would no doubt cost a little more to manufacture than the bulbs at present in use, but the fuse embodied could be used again.
Mr. Gulliford is also the inventor of the non-automatic detector fitted to the well-known Wolf Alkaline miner's lamp, and several hundreds of these were in use quite recently at the Denaby and Cadeby collieries and in 1928 he invented a gas detector which would detect and register percentages of gas from one percent to seven percent, but owing to its delicate and complicated nature and costly enough he decided not to market it.