Mexborough & Swinton Times, February 19, 1937
New Vicar of Conisbrough
Bishop's Recommendation
Institution Service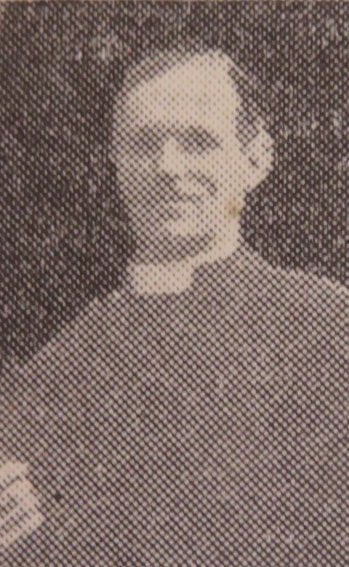 In the presence of a large number of friends, lay readers, Vergers, and fellow clergy, the rev. Harold Trevor Eddershaw was instituted to the living of Conisborough on Friday.
 Bishop's address.
The Bishop took for the text of the sermon, "God revealeth his secret unto his servants the prophets" ( Amos III., 7). "Everybody," he said, "wishes to learn God's secret, but God does not reveal it to everybody – man must work hard to learn it."
Referring to the progress of civilisation has made, the Bishop said, "I was taking a service at Brighton some 25 years ago, when suddenly there was a tremendous noise in the air. Nearly all the men in the congregation rose to their feet and rushed out of the church to see their phenomenon – an aeroplane. The scientific man goes on fact – he takes advantage of a chance, and introduces his effort to the world. God reveals his secret to the man who works for it. Lord Lister had spent years and years trying to find an antiseptic before he invented one, and his work has since saved more lives in operations, than any other discovery."
"No scientific discovery, however, will make anyone more moral, more humane, unfortunately it sometimes does the opposite. It does not affect the great things of life. When God reveals his secret by revelation, however, it alters man's life, and everything that is important. The revelation of God entirely changes a human life.
"God works and reveals His secrets, not by force, but by bringing out certain things, and leaving the people to find out the secret for themselves.
After a long period of training of the human race all through the times of the Old Testament, came the revelation through the divine son, the greatest of the prophets and he never forced the truth upon anybody. When Christ ascended into heaven and the Holy Spirit was sent down to found the Christian church exactly the same thing happened."
The church was not forced to do anything, but God gradually revealed His secrets to the people so that they gradually discovered what God's purpose was. That was how God worked now. God works through his church, through his prophets, and he reveals to them his secrets, and he points out the way that they should go."
"Your new vicar has been examined, trained, tested and instructed in the revelation of God. He has gradually gone on finding out the secrets of God, and now under the guidance of God he has been chosen to go to another place. You may rest assured that he comes with the authority of God"
No Man The Same.
"During my services Bishop of Sheffield, there have been several Vicars of Conisborough. Each in his own way has done good work for God. No man is the same, and similarly every clergyman is different. When a living is the gift of a bishop, you understand what a great responsibility the Bishop has, and he is no wiser than other people. He has to choose a man he thinks is best suited to the parish to which he is to be sent. I can assure you people that I took very great pains to try and find the best man for this particular parish. Your new vicar is a man who has had an excellent record at college, and later at one of the best training schools in the country, the parish church of Doncaster, under the present Archdeacon. He had the opportunity to learn a great deal there, and he accepted the opportunity easily. He was then appointed by the church Burgesses of Sheffield to one of the most important parishes in Sheffield. He has been there for 14 years. The parish is unlike a great many parishes in Sheffield, but there are many here tonight who know that he has been very successful in ministering in that parish."
"How long should a man remaining one parish? I remained in one for 16 years, and I think it is too long. Mr. Eddershaw thought that he ought to go to a different parish. I will tell you frankly why I chose him, why I have every confidence in him, and why I think he will do very well in the parish. He knows the message of God."
Referring to the Parish Church, the Bishop said "I love this church, and I can remember when it was restored soon after I was appointed Bishop of Sheffield, and I can well remember how beautiful I thought it then. There are other things in Conisborough that I like, the glorious 'old castle, and the beautiful views. I think you have a number of earnest, devoted church people who love their church, who are seeking to build up a Christian community in the parish. You must allow God to reveal to you his secrets, which he wants to give you. He wants to show you these things, but he will never force you. When you learn the secrets, it will be true to say that Conisborough is an attractive parish because it will be a Christian parish."
Following the service, a welcome was extended to the new Vicar in the Church Hall.