Cliffe enter Final
Northcliffe W.M.C. 4 Magnet Ath 1
If ever victory was well deserved then Northcliffe W. M.C. Deserved their Mexborough Challenge Cup semi-final win on Saturday. Except for a short while in the second half when they lost some of their brilliance, they played doggy, hard football and showed just how they have managed to get so far in the competition.
Magnet were perhaps a little unfortunate in lacking that little bit extra to convert their few chances.
From the start Northcliffe were attacking well and their early moves were clear and definite, despite attempts by the Magnet wingers to press home some chances created by weaknesses in their opponents defence.
Centre forward Levers spoil what was a fine chance from Northcliffe after 15 min when he was slow in turning and so missed an open goal. Flaherty, working hard on the left-wing, missed another chance minutes when his hard shot was just turned round the post by keeper Cutts.
Right-winger Harle was the next to fail with a hard shot, but in the 22nd minute Flaherty made up for his previous miss and scored in fine style after gathering a corner from Harle.
Magnet loose Keeper
there was no holding what appeared to be the far stronger team now, and both Parker and Bullock missed chances. Magnet were even more despondent minutes later when they lost Cutts their keeper, who suffered from an attack of nose bleeding. He was replaced by Scott, the left-winger, who remained in the goals until the end of the game.
In the 35th minute. Walker made it two from Northcliffe when he converted a penalty in fine style. Smith, Magnets inside left, evened things a little 5 minutes later when he beat the Northcliffe defence to score with a hard shot.
In the second half, the Conisbrough team slow down somewhat but in the 70th minute Bullock added a third goal and the match was settled. 5 minutes from the end when left half Mills headed a corner past the Magnet keeper.
Team: Clamp; Smith, Moore; Parker, Jones, Mills; Harle, Bullock, Levers, Walker, Flaherty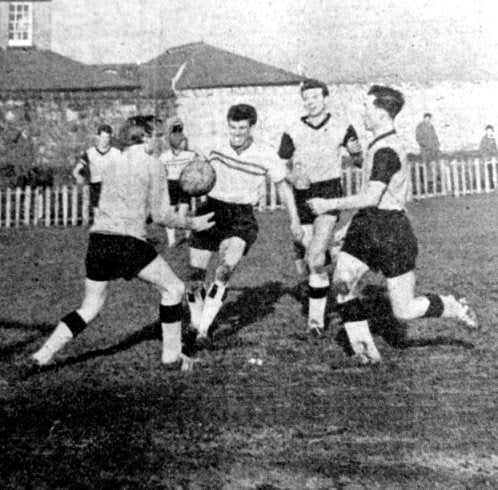 Northcliffe WMC on the attack against against Magnet in the Mexborough Challenge Cup Semi Final