South Yorkshire Times April 30th, 1949.
Round Your Way
Conisbrough
What a pity there is no sea front at Conisbrough or Knaresborough Bridge! Visitors from the south who took a wrong turning might well imagine they were in either place. With little imagination Conisbrough could be a tourist centre
Start in Brook square and climb New Hill elbowing its way past the little chapel that faces it four square, holding high its date stone of 1863. take in on your right that lovely picture of Conisbrough Castle white in the sunshine on a cloth of green banked by elm trees and framed by slate roofs and red gables, climb up past the little houses built haphazardly on the hill side and facing, each other across a few yards of roadway, then pause to look back.
Little archways frame yards at the backs of the houses, and at the foot of the hill a stream flows under the road almost unnoticed.
March Street seems to have been caught unaware. Surely this must once have been intended as the back door. The widened street goes by now and front rooms of other dwellings look on the broad back of March Street.
At a newsagent's just round the comer by Park View, I could have bought a copy of the Chicago Sunday Times
Many of the shops In this old world Conisbrough have an air of "ye olde worlde shoppe" (there Is a modern fragment in the Coningesburg Canine Bureau, a very up-to-date and attractive centre for dog fanciers perched high on the hill) If you were in a true tourist centre you would expect many or their tiny windows to be stocked with souvenirs. Especially the broader window of the attractive antique dealer. Shades of Whitby jet!
Visitors from as far afield as London and Harrogate come here to find antiques. In the far off past to which old Conisbrough belongs this spot marked a staging post for the coaches which came down the Old Road, on down the old hill and across the brook at the foot on their way from Sheffield to Doncaster. The old has been demolished, oak from its rafters has gone south: a kingpost still stands by the side of a Nyssen hut which has replaced the inn. The beautiful black oak Jacobean staircase, which has echoed to the feet of the past has been preserved.
The antique dealer a specialist in his trade told me the war and its aftermath had had their repercussions It was not so easy now to pick up good genuine antiques and the demand for them was a varying quantity He had a lovely old sideboard among his collection; but it was too big for the small modern "semi"
In Church Street I bought grape fruit from Trinidad. A courteous shopkeeper greeted me with a pleasant 'Good Morning' and assured me I could have bought a crate if I had wished. The regular customer's only sign was rapidly going into a well-earned retirement, and he smiled his approval.
And what of Conisbrough's lovely Castle? here is beauty drenched in history.
I have seen the Parthenon, floodlit by night, floating on an invisible cloud, and I have thought of it again when I have seen Conisbrough castle riding the tree tops its ancient stones white in the sunlight of an April day. Around and about are grass-covered courtyard and below, those pleasant gal dens which yearly blaze with flowers.
Some day, perhaps I shall go to Conisbrough and find it is, after all, another Knaresborough.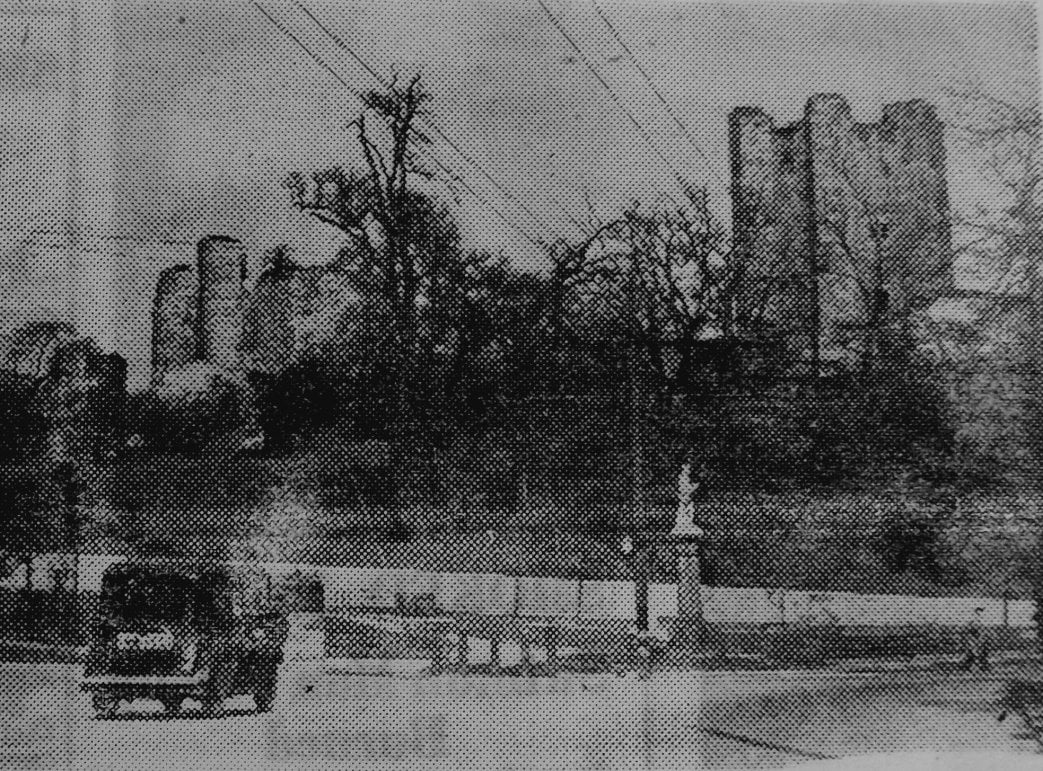 –