Joseph Bowen
Royal Horse Artillery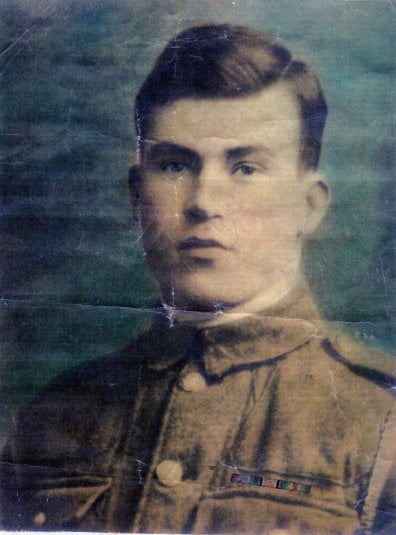 Joseph Bowen was born on March 1st 1895 at 49 Lloyd Street, Middlesborough. He was the second son of Eliza Mitford Bowen. (An apparent error on his birth certificate shows his place of birth to be 49 Lord Street. This is likely to be a mistake as his mother was definitely living at Lloyd Street at about this time. (Census 1891)
Joseph had two brothers, Edward Mitford Bowen, born 1891 and John Israel Bowen, born 1899. Following his mother's marriage to Benjamin Blades in 1904, Joseph and John moved with their mother and her husband to Conisbrough. The elder brother Edward however remained in Middlesborough. (Although this separation took place over a hundred years ago, my family is still in touch with our cousins in Middlesborough – the descendants of Edward).
By the age of 17, Joseph had enlisted in the army at Doncaster. He joined the Royal Horse Artillery on October 14, 1912. He was therefore a regular soldier at the outbreak of the First World War. Family tradition has it that he was a member of the first British forces in action at the Battle of Mons, and as such was one of the 'Old Contemptibles' who took part in the retreat from that battle. (My father recalls him having great pride in this).
His military decorations were, The 1914 Star (with clasp), The British War Medal and The Victory Medal.
Joseph survived the war and was discharged on October 13, 1924 having served 6 years and 202 days with the colours and 5 years and 163 days in the army reserves.
After the war , Joseph became a coal miner and worked for many years at the Yorkshire Main Colliery in Edlington. On April 15 1922 he married Florence Birch at Doncaster Register Office and they went on to have 8 children. Florence had a twin sister ,Isabel, they were born on May 11, 1903 in Attercliffe, Sheffield. Their parents were John Birch and Ernestine Mathilde Marthe Loisel. ( More about these ancestors later).
Joseph died of a heart attack, while working at Yorkshire Main Colliery on January 21 1960, aged 65 years. He was laid to rest at Conisbrough cemetery. Florence survived her husband by 27 years but died on July 9th, 1987 aged 84 years at Crookhill Hospital, Conisbrough and was interred at the cemetery with her husband.
Despite what he must have witnessed during his years at war, Joseph Bowen was one of the lucky ones. The great tragedy of the First World War, was the huge number of young men who never returned to their homes.
Joseph's brother John Israel Bowen was one of them. John joined the King's Own Yorkshire Light Infantry (KOYLI) and was despatched to the trenches in Belgium with the 10th Battalion. He was killed in action at the Battle Of Paschendaele, near Ypres on October 4th 1917  he was just 18 years old. He was buried at Hooge Crater Cemetery, Zillebeke in grave VI B5. His death is honoured on the war memorial in Conisbrough.