South Yorkshire Times May 1898
The Invasion of London
Being an Account of How a Detachment of Trippers from the Fox Inn Conisborough Took Possession of the Greatest City in the World
The Americans have for a long time been preparing for the invasion of Cube, and have not yet invaded. At the Fox Inn, Conisborough, there was about half the amount of preparation for the invasion of London, and the invasion is already a matter of history.
There was a trip to London at midnight on Friday, and the railway company's explanation of the occurrence being that the Jubilee Stakes were to be run for at Kempton Park on Saturday, and the special train and cheap fares were to enable provincials to attend the races and lose their money on equal terms with the Cockneys.
The Fox Inn party took advantage of the trip, and travelled by it, and by the exercise of forethought, coupled with the kindly labours of the Fox Inn host, one Joseph Crossland, reduced the discomforts of all-night travelling to a minimum.
They engaged a saloon and stocked the luggage cabin thereof with liquid refreshments sufficient for an Atlantic cruise, aid they made ample provision for those that hungered as well as those who were athirst. As we bowled along Londonwards, at somewhere about I-30 a.m., supper was served to the whole cabin load—and not, mark you, a flimsy pretence at a meal, consisting of sandwiches and a mustard Pot. There was big joint of beef and a big ham, and we supped with knife and fork and appetite.
Later in the morning when we were somewhere between Hitchin and Kings Cross we breakfasted, and having been unstintingly refreshed between whiles with various drinks, there was not a man of us who did not step from the saloon on to the platform of King's Cross as fresh as paint on the station pillar box. None of us experienced "that tired feeling" one reads of in patent medicine advertisements, and all could have ran a mile in five minutes without difficulty—perhaps.
But there being no need to hurry, we walked aid saw something of the city in the early morning, with the morning's milk still standing at the doorstep and the policemen trying to appear as though they had cot, in a secluded doorway slept away the watches of the night.
That we astonished a few natives by speaking pure English to them —a tongue they do not under-stand—and that some twenty of as invaded a place within the meaning of the statute in that case made and provided, and gave a sleepy bar tender palpitation of the heart by all demanding to be served at once, when he was disposed to make the order last all the morning, need not be dwelt upon.
Neither is it necessary to more than record the fact that to our agreeable surprise we found the majority of the clocks in public places in London exactly right by Mexborough bank, and it would be unfair to unduly emphasise the fact that one Joseph Crossland believed himself capable of showing me my way about London, although I may record the fact that when we stood at the foot of Ludgate Hill he had a notion he would find the Strand by proceeding up the hill and circumnavigating St. Paul's in manner of speaking..
But it is worth mentioning that some score of us swooped down upon one of the commodious underground public lavatories in the Strand, and completely paralysed the attendant by a general demand for a wash and brush up. He had been attendant at that lavatory six years, he told me, and during that time had never seen so many people anxious to spend twopence for a wash. Cockneys don't spend their twopences on water when they can buy ale with the money.
It was obvious that something like a score of us could not keep together the whole of the day. The city throng, to say nothing of the minding order, prohibited that, and so at Waterloo Bridge we parted, going hither and thither in two's end three's and in some cases half-dozens.
As to where and how we went I am therefore able to hereafter record by hearsay only. One contingent, in search of excitement, went to Hyde Park explored Rotten Row, admired the Albert Memorial, became hungry and thirsty by turns, and finally dead tired and footsore.
Another migrating Westward struck the Houses of Parliament and Westminster Abbey, and spent their time inspecting these two temples of the present great and mighty past.
Still another made their way to Covent Garden, afterwards spreading themselves about the neighbourhood of Drury Lane and St. Martin's Lane, vainly endeavouring by asking a policeman, and other methods to discover the once famous Seven Dials, now swept away for aver non est.
A fourth detachment took the steamer to Greenwich, and spent the day among the memories of Nelson. Howe, Anson, Rodney, Collingwood, and Exmouth and there was one of the party who went to Putney, and being he who knew his way lost himself, and was – metaphorically of course crying in the wilderness, until the policemen took pity on him and sent him citywards again.
I, having business to do, tried to do it. I went to see a man, and didn't find him. So I paid a shilling for admission to the Royal Academy of Arts, and am of opinion that the institution owes me eightpence, the show being worth about four-pence. There are some good pictures, one or two of which would make decent theatrical posters, but the majority of them are not worth hanging, whatever may be said of the artists.
Modern art seems to consist of drawing a perfectly impossible half-draped figure, enveloping her in a tissue of rainbows, gossamer, and limelight, and describing her as Circe, Hebe, Venus, Aurora, La Cigale or St. Eliza. These daubs, for they are nothing else, belong to the "Impressionist School" as it is called. The impression they gave me was a bilious one, and while they would make excellent advertisements for Rainbow Soap or Payne's fireworks, they ought to be, kept out of an exhibition that is supposed to foster art.
I contrived to do my business after my visit to the academy, and later in the evening repaired to the rendezvous where the Conisborough contingents were to meet again. We met.
We were all moderately tired, but every man happy. We had seen, and had been seen. We were glad to meet again, and signified the same in the usual manner. Then we went to the "Oxford."
The fact that none of us had been to the races at Kempton Park should tell in our favour, and be accepted as corroborative evidence, to my assertion that every man of the party was an old Sunday school scholar. But that we went to the `Oxford, which is a music hall, may disperse some of the good impressions formed concerning us.
But I can assure our critics that the Oxford is a perfectly respectable place, where the management announce that they 'will feel obliged to any persons will bring to their notice any item on the programme that they consider objectionable," which may not be very good grammar but displays a disposition to oblige which cannot be cavilled at.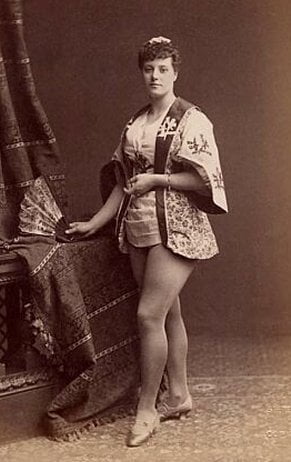 I have nothing to object to in the entertainment programme, which consisted of thirty-two turns, all of them first class artistes, including Dan Leno (photo)*, Harry Randall, Billie Barlow, and Harriett Vernon (photo)*, among other stars, and Dan Leno and Harry Randall alone are worth the money, if you don't pay more than a bob (5p) for your seat, but I have a can-plaint to make re the bill of fare of enjoyment' other than these supplied from the stage. To be charged sixpence for a small bottle of beer, and then be asked to remember the waiter, even though the latter be a very nice waiter, with a beautiful hard boiled shirt, and a seraphic and expectant smile, is as objectionable as anything I ever encountered. It is a method of getting at one I don't at, all like. The management profess to let you into their show for a bob, but when they make more than a cent per cent profit on every drink you have, they soon, especially if you are dry, make yon pay double your admission money for your entertainment.
Of course you can circumvent the management by taking your drink in with you, but if the whole twenty of us had taken a gallon stone bottle apiece into the place what would the management have thought! However, I trust that that now I have complained, this little matter will be remedied, and next time I trip to the Metropolis the 'Oxford" management will not be an extortionate.
Every man in his right mind, we turned up at the station for the return journey, a party of blissful, but terribly sleepy tourists. But supper en route, and other occasional refreshments kept us alive until our arrival home, when I should imagine bed embraced us greedily, and with gratitude on our part.
Before we left the salon we proposed, seconded, and carried unanimously our best vote of thanks to one Joseph Crossland, for his trouble in organising the trip, his success in catering for manifold requirements, and his assiduity in looking after our comfort during our journeys to and fro.
He deserved served every wows of thanks, as did "Billy Bolton," his right-hand man, whose exertions conferred many a boon and blessing on us all.
When I and asked to go to London again with the Fox Inn party of Conisborough, I shall say yes In seven languages; and in fact they needn't not asked me, but take my consent for granted. I know when I am well treated.
From You Tube:
* Photos from Wikipedia
Videos from You Tube