South Yorkshire Times Nov 12, 1955
The Vintage Years
Denaby Church Football 1916-17.
The vintage years of Mexborough district soccer were recalled this week in a picture of Denaby Church football side of the year 1916-17.
Mr. Edley J. R. Thomas, 78-years old retired miner, of Athelstone Road Conisbrough showed us a slightly faded photograph of Denaby New Mission Football Club, who played in the Mexborough and played in the Mexborough and Swinton District Sunday School League.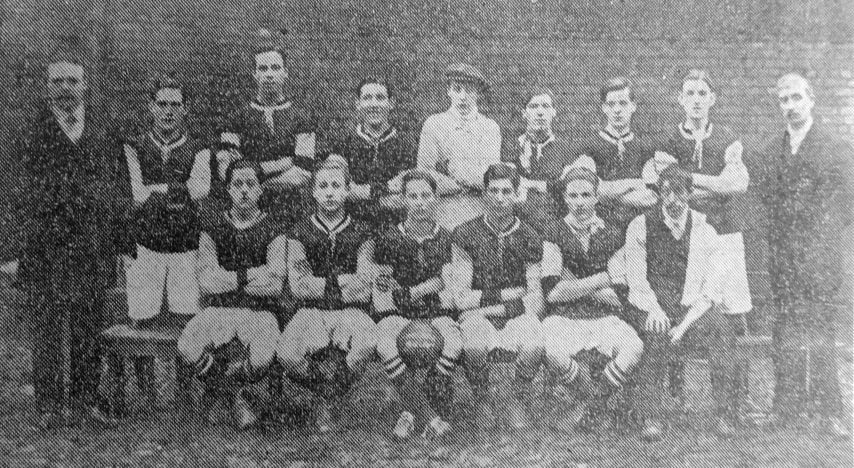 Mr. Thomas, talking to one of our sports writers, said that all the players of the Club used to attend Bible Class on Sunday afternoons (2 p.m. to 3 p.m.). The class was in the charge of the Rev. Tunnicliffe.
Mr. Thomas was manager of the team, assisted by Mr. Norris Boyes. Trainer was Mr. Ernest Wootton.
The team was used a football ground down Glasshouse Lane, where Cadeby Colliery offices now stand. Mr. Thomas remembered that the team also had permission to play on Denaby United's ground 'when Denaby were playing away and provided we looked after the ground and the stripping rooms.'
The photograph was taken on the United's ground in front of the big stand. On that particular day the Denaby side were well pleased with themselves as they had just beaten Swinton Church 3-1.
'I believe there were 10 or 12 clubs in the Sunday School League that year,' he said, 'but half-way through the season I left Mr. Tunnicliffe in charge of the club when I enlisted for the war, I never saw the club again until I was demobilised on December 18h, 1918.' Mr. Thomas served in France during the war. He was cook to the 43rd Mortar Ambulance Corps.
Well-known in the Conisbrough and Denaby district, Mr. Thomas has been a stalwart supporter of Denaby United Football Club for many years, and he has gone to watch the Midland League club's games in all kinds of weather.
Mr. Thomas has also been a member of Denaby Main Parish Church for many years – he was a bass singer in the church choir at the age of 17. Hundreds of old people in the Denaby district will probably recall that Mr. Thomas was one of the 'Kentucky Minstrels,' entertainers at the Denaby Main Hotel when Mr Tom Oldfield was manager.
He gives the following list of names of players in the picture: Mr. Thomas (manager), Bob Goddard, W. Rufus, Ben Hinchliffe, Sam Wellings, Sam Hughes, Tommy Guest, Peter Doran, Will Boyes, Sam Hinchcliffe (captain), R. Oliver, Peter Colinridge and Ernest Wootton (trainer).