Mexborough and Swinton Times June 28, 1941
Mr W.L.holiday (Sprotbrough) and Miss E.M.Rigby (Denaby)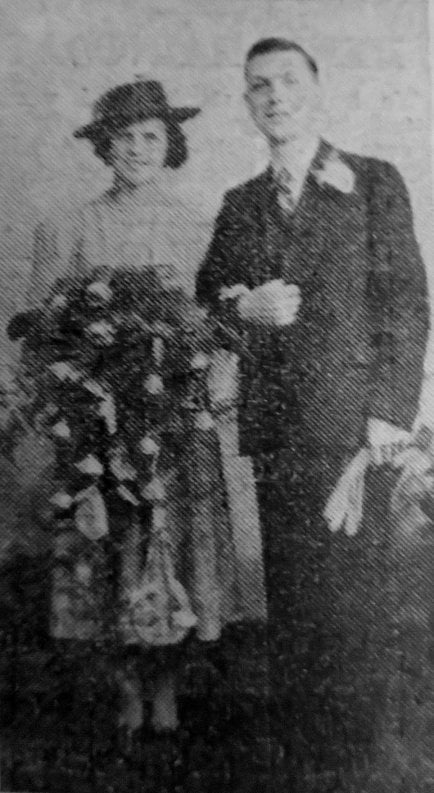 On Monday at all Saints Church Denaby Main, the vicar, the Reverend S Paoli, officiated at the wedding of Miss Ethel May Rigby, youngest daughter of the late Mr E Rigby and of Mrs Rigby, of Craig Lea, Church Around, Denaby Main and Mr WL holiday, only son of Mr and Mrs WC holiday, of Brooklyn, Melton Road, Sprotbrough.
The service was choral, Mr E Dabbs being at the organ.
Both bride and bridegroom are well known members of the clerical staff of the Amalgamated Denaby Collieries, Ltd.
As a combined gift from the staff they received a mahogany bureau. The bride had previously been in the employment of the Darton and Strafford Collieries and had resided in the Staincross area for several years, where she and her family are well known.
Given away by her brother, she was neatly attired in a two-piece costume of dusky pink with navy hat and toning accessories, and carried roses. Her attendants were Jessie Rita Bent and Miss Joan Lester, both wearing becoming two-piece costumes of delphinium blue with hats and accessories with toning effects and carrying anemones.
Mr. T. Rigby was best man. The bride was presented with a silver horseshoe by her niece, Doreen Rigby. Mrs. Rigby, mother of the bride, wore a navy dress with matching coat and hat, and Mrs. Holliday had a two-piece navy striped costume, with hat en suite, and they had sprays of carnations.
After the ceremony, a reception was held at Craig Lea, at which Mr. and Mrs. Holliday received many congratulatory messages.