Mexborough & Swinton Times – Friday 17 July 1931
Young Solicitor's Conisborough Bride.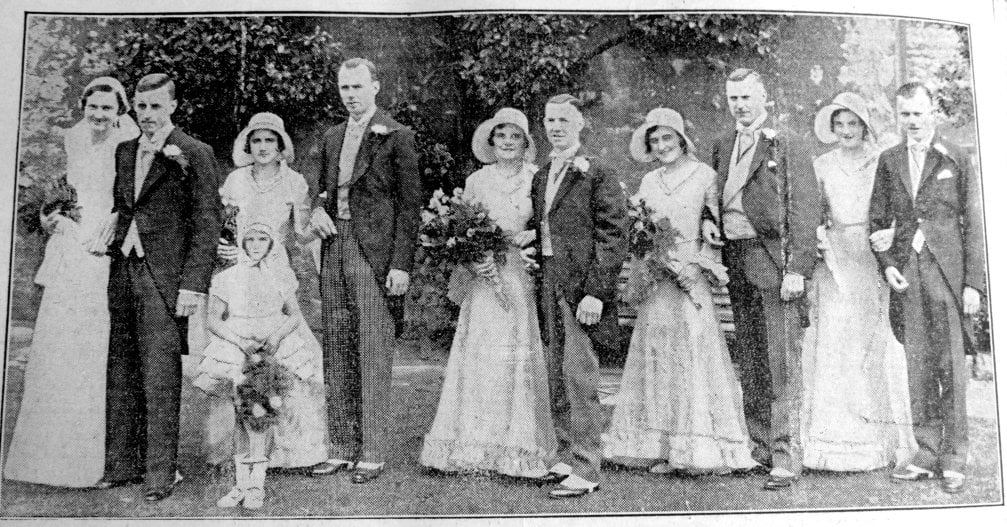 The bridal party at the wedding on Wednesday of Mr. Francis Ogley, of Hill Top, Conisborough,
and Miss Margaret Sharp, of Elmhirst, Conisborough.
A delightfully pretty wedding in which two, prominent Conisborough families were interested took place on Wednesday afternoon in Saint Peter's Church, Conisborough, which was filled with friends of the families concerned.
The bridegroom was Mr Frank Ogley, eldest son of Mr and Mrs F Ogley, R Hill Top Mouse, Conisborough, and the bride Miss Margaret Elizabeth Sharp, only daughter of Mr and Mrs H.H. Sharp, Elmer's, Conisborough.
The bridegroom is a solicitor, practising with the Firm of Oxley and Coward, Rotherham. He is well known in athletic circles, having played for the Rotherham Rugby Club and the Yorkshire Wanderers.
The young couple are widely known and greatly esteemed for their own and their family's sake.
The marriage ceremony, though the day, unfortunate was gloomy and Chari, made a very pleasing and picturesque spectacle.
The marriage was performed by the vicar of Conisborough, the Reverend H Lee, and the service was choral. Mr R.J. Currier at the organ. During the service hymns, "Lead us, heavenly Father" and "Oh perfect Love" were sung. The church was beautifully decorated with scarlet gladioli, Madonna lilies and marguerites.
Article continues