Sheffield Daily Telegraph – Tuesday 20 April 1909
What Did I Tell You!''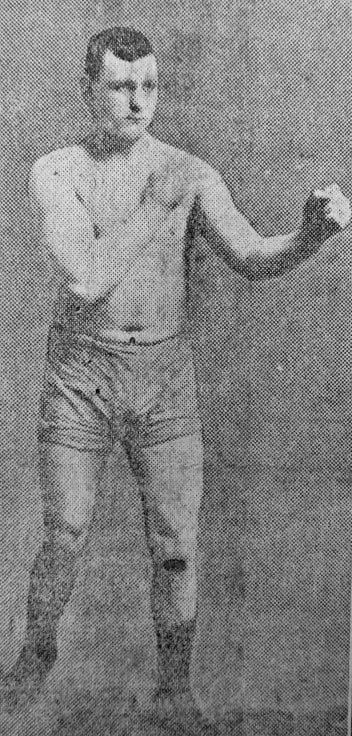 Our special representative was seized Hague on making his way to the latter's dressing-room after the brief battle- "What did I tell you?" was Hague's laconic observation—nothing more !
Earlier in the day, Hague had expressed his confidence in the result. "I shall beat him," he had observed. And beat him did—in emphatic fashion. Hague has attained the pinnacle of British boxing fame, and the man will be a clever exponent of the fistic art who succeeds in taking the young Mexborough boxer's title from him.
Mexborough's Reception of the Result.
The receipt of the news Mexborough, from the "Sheffield Telegraph'' Branch Office, Bank Street, aroused tremendous enthusiasm. A crowd, numbering some 2,000, went nearly wild with delight. The news seemed too good to true, and people fought their way to the office window, when they received verification of the victory. Three cheers for the "Champion of England" were called for and these were given again and again. The news was shown in the window, and the announcement publicly made by our local representative at exactly 10.55, fully five minutes earlier than it arrived at other places in the town. The Sheffield Telegraph" private wire to Denaby was also utilised to convey the tidings to the Denaby United football ground, where the club pavilion rooms were thrown open to the public. The news was dispatched there immediately on its receipt at the Mexborough office, and the colliers received it with characteristic Yorkshire enthusiasm, scores running from the ground and spreading the tidings of Hague's victory like wildfire through Denaby and on far Conisborough.
Mexborough had its confidence justified, and for a long while the precincts of our branch office were surrounded Hague's delighted supporters. Hague's victory is astonishingly popular, and it was generally admitted that his "terrible right" had put Moir to sleep in championship fashion.
Rotherham's Enthusiasm.
Iron Hague's victory was very popular in Rotherham, the news of his remarkable success being first distributed through the branch offices of this paper. There was a considerable number of people in the streets awaiting the result. The announcement was greeted with shouts of jubilation, "Good Old Iron" being the frequent ejaculation.