Mexborough and Swinton Times July 22, 1938
Woman's Claim To Be Britain's Youngest Great Grandmother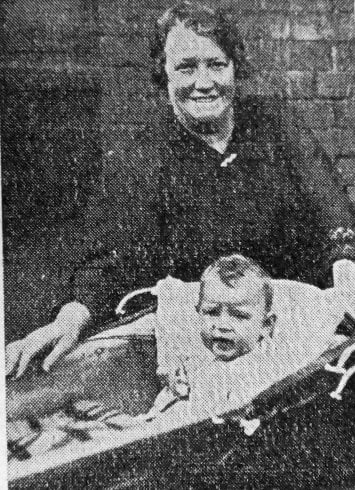 A great grandmother at the age of 61, Mrs. Emma Robinson, of 67, Tickhill Street, Denaby, claims that she has established the record of becoming the youngest great grandmother in the country. On Sunday she and the rest of the family attended the christening service at Edlington of the first great-grandchild, Marlene Goulden, daughter of Mr. and Mrs. John Goulden, of Edlington.
Mr. Robinson, who is 63 years of age, is a bricklayer by trade, being the only member of the family who does not work in the pit.
He and Mrs. Robinson were married at Sutton-in-Ashfield 42 years ago, and they came to Denaby shortly afterwards. They have had thirteen children, of whom nine, five boys and four girls, are still Iliving; all the daughters are married as are two sons, the other three living at home.
Harry, the youngest son, has the distinction of becoming a great-uncle at the age of 20.
Mr. and Mrs. Robinson's eldest daughter, Gertrude, became Mrs. Goulden at the age of 19, and now lives at 4, Stafford Terrace, Burcroft. Their eldest son was married just over a year ago at the age of 18, and it was his first child who was christened on Sunday.
Other points worthy of notice with regard to this remarkable family are that , Mrs. Gertrude Goulden is a grandmother at the age of 40; that at least three of Mr. and Mrs. Robinson's twenty grandchildren who are still in the Infants' School become uncles and aunts before they are ten years old.
Ellis Robinson, the Yorkshire County cricketer, is a nephew of Mr. and Mrs. Robinson (senr.).