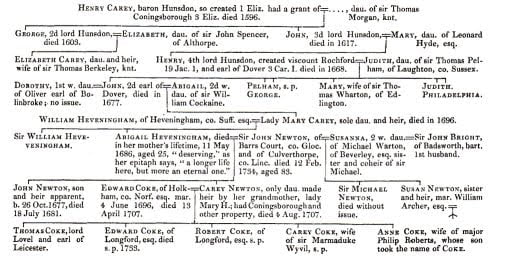 A few miscellaneous notices of Coningsborough during this period are here inserted. And first,two warrants connected with the park of Coningsborough; one of Edmund earl of Cambridge, in the reign of Edward III., in favour of FitzWilliam of Sprotborough, a family much attached to the house of York ; the other, of Richard duke of York, from an inspeximus under the great seal of Edward.IV.
Esmoun filz au noble roi d´Engleterre, counte de Cantebr´, a n´re bien ame Henr. de Westby, n´re parker [de] Conesburghaugh, salutz. Vous mandons y facer deliv´r au n´re ch' et bien amc Mons" John FitzWilliam un deyn de n´re doune, et cestes l´res vous euit serront gan-auntz. Don a Windsore soubz n´re seal le vintisme jour de May, l´an du regne n´re tres hon´es [seigneur] et piere le roi quaraunt secounde.
Richard duc de York conte de la Marche et de Ulvestre, seigneur de Wyggemore et de Clare, lieuten´ general et gouverneur des royaume de France pays et duchie de Normandie, a tous ceulx qui ces presentes l´res verront saluz. Savoir faisons que pour les bons et agreables services que n´re bien ame serviteur Johan Plaseden nous a faiz et feraon temps advenir, lui avons donne et otroye les offices de Laundier et Palisser de n´re park de Connesburgh en la conte de York pour lez diz o ces avoir tenir et exercer par lui mesmes en personne durant le terme de sa vie, prenant de nous les gaiges et fees et tous autres prouffiz et emolumens a iceulx offices anciennement deubz et accoustumez, dont nous voulons qui] soit paye annuelment durant le dit terme de sa vie, des yssues proffiz et revenues de n´re seigneurie de Connesburgh, par les mains du receveur illeoques qui ores est, ou qui pour le tem s advenir sera aux termes et en le manier accustumez. En tesmoing de ce nous avons fait faire ces nos l´res paten´. Donne soubz n´re seel a Argentin le derreiner jour de Juing lan du regne du roy Henry le Sexme puis la conqueste vint troiziesme.
In the Church of Wolley were, in the time of Dodsworth, the effigies of John Woodruffe and Elizabeth his wife, with this inscription:
" Orate pro anima Johannis Woodroiie de Wolvelay, arm. quondam receptoris d`ni regis Edwardi IV. dominiorum suorum de Wakefeld, Conisburghe, et Hattefeld, &c."
The act of resumption 1 I3 Edward IV., was not to prejudice dame Alice Sayvile, wife of sir John Sayvile, in respect of a grant from the king of a ton of wine from the port of Hull, and a hart to be taken in the season at his herd of Thoryn [Thorne], and two bucks in season, one in his park of Connesburgh, and another to be taken in his park of Hatfield, for term of life.
The great act of resumption, I Henry VII., was not to extend to John Whetley in respect of his office of bayliship within the lordship. of Conysborow, with the keping of the park there; nor to sir Thomas Burgh, knight, or Edward his son, in respect of a grant by Edward IV. of the office o master of the game of Hatfield, Thowrne, and Cunsburgh, or of the office of surveyorship of the said Hatfield, Thowrne, and Cunsburgh .
In 7 Henry VII sir Thomas FifzWilliam was keeper of the park of Cunesburgh haugh, as appears
by a warrant in favour of Bryan Sandford of Thorpe Salvin, which will appear in its proper
place.
And lastly, Thomas Lord Darcy, in the 1 Henry VIII., was surveyor-general of the castles and lord- ships of Sheriff Hutton, Middleham, Richmond, Cottingham, Sandal, Wakefield, Hatfield, and Coningsburgh.
The princes of the house of Tudor rarely visited the North ; and indeed from the time of the countess of Cambridge Coningsborough might be said to be deserted by the distinguished persons to whom it still belonged; and from her time I should begin to date the gradual decay of the buildings which formed the residence of the Warrens and the early princes of the house of York, till they became so reduced that we ask with wonder where accommodation could be found for the residence of such illustrious persons with their train of attendants.
Thomas Lord Darcy
Of the stages of its declension, till it became the mere shell in which we now behold it, I can give no account. Leland shows less curiosity in respect of this castle than might have been looked for. He " saw no notable thing at Cunesborow but the castel, stonding on a rokket of stone, and diched.
The waulles of it hath be strong and full of towres. Dunus flu. alluit willam."
And this is all. No garrison was placed in it during the civil wars, and it is not mentioned with Sheffield, Tickhill, and Sandal in the order of the house of commons for sleighting the northern castles, 1646. Evelyn notices the fine woods here.
In the third year of queen Elizabeth the site of the castle, the demesne lands, and the feudal rights over a portion of the antient honour of Coningsborough, were granted by patent to her relative Henry Carey, then lately created baron of Hunsdon. This was the lord Hunsdon of whom we have before had occasion to speak, when he became under rather peculiar circumstances the high steward of Doncaster. He served queen Elizabeth through nearly the whole of her reign ably and faithfully, but never obtained from her any higher rank than that of baron, though he was very nearly related to her, his mother being sister to Anne Boleyn. Henry Carey With far inferior pretensions to royal favour, his grandson was made viscount Rochford by James I., and earl of Dover by king Charles.
Conin gsborough continued in the possession of this family till the extinction of the male line, when it passed with other great estates to lady Mary Carey, who married William Heveningham, of Heveningham, esq. one of king Charles´s judges.
This lady died very rich in 1696, when her property descended to her grand-daughter and heiress Carey Newton, who married Edward Coke, esq. of Holkham in Norfolk. Coningsborough became the property of a younger son, Edward Coke, of Longford, esq. who died in the prime of life, 1733.
In 1737 the castle of Coningsborough, &c. was sold, pursuant to directions contained in the will of Edward Coke, esq. The purchaser was Thomas the fourth duke of Leeds, one of whose principal seats was at Kiveton, an antient member of the soke of Coningsborough.
Edward Coke

From him it has descended to his grandson George William Frederick duke of Leeds, K. G. its present noble proprietor.
I quit this beautiful part of our subject with reluctance; and before iinally leaving the castle-mound, would refer the reader to another written delineation of the castle, considered as a picturesque object, in the " Yorkshire Scenery" of Mr. Rhodes, worthy to be placed by the side of that already given; and would once more recal its possible, not to say probable, connection with our earliest Saxon history, and the fate of Hengist.
George William Frederick duke of Leeds
1 Acts of resumption were usually passed about this period at the beginning of each parliament. All grants made by the crown since the last preceding parliament were declared by them to be resumed, except such as were specifically excepted. They abound in curious particuars,`and would be much more used by topographical writers were the Index to the Rolls which has been prepared, and in part printed, made public.