South Yorkshire Times April 27.
Brandreth Folk are in the Swim
Coun. A.E.Tyas, Chairman of Conisbrough U.D.C., seen on Tuesday at Denaby Baths presenting the Royal Life Saving Society's award of Merit to Shirley Brandreth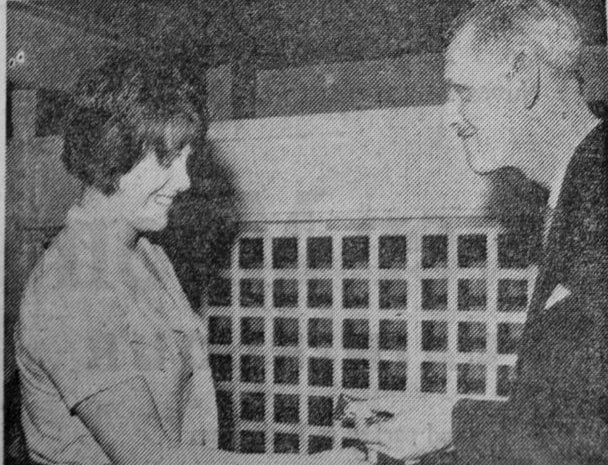 There is nothing like a shared interest or hobby for bringing a family closer together. In might be music dancing or gardening or even bingo. In the case of the Brandreth family, of Roberts Avenue, Conisbrough, that shared interests has been swimming.
17-year-old Shirley Brandreth told our reporter this week: "swimming has brought us closer together because we are all doing something together.
"You can all sit down and talk about the same thing, even though different people have different ideas." She said.
The Brandreths have achieved something like renowned in and around Conisbrough since they became closely connected with Denaby Baths some eight years ago.
At that time Shirley and 18-year-old brother, Kenneth, began learning to swim and their mother, Mrs Annie Brandreth, took up the post of attendant at the baths.
Since then, Mrs Brandreth has won several life-saving certificates, the most recent being a distinction award from the Royal Live Saving Society, which she received from the chairman of Conisbrough Urban Council, Cllr A.Tyas, at Tuesday's annual meeting of the Denaby and Conisbrough Amateur Swimming Club.
In composition to she has proved herself, and two years ago when the clubs diving championship.
A Fanatic.
But hopes for the future of this lie with the youngsters. Shirley herself is an admitted swimming fanatic.
"In our club swimming seems to make people feel important as individuals," she said.
"There is one thing about competitive swimming," she explained. "I am more confident now, because I know what I can do when I'm faced with it."
Shirley and brother have a great deal in common. Both are students at Mexborough Grammars School, and both play for school teams – he for the football first XI, and she for the hockey team.
For Yorkshire.
Kenneth too is a young hopeful in the swimming world. He has represented the Don and Dearne and Yorkshire Schools team, almost always finishing in the first four places.
Shirley and Kenneth are also both keen to teach P.T.and hope to qualify for training College.
Of course, the picture wouldn't be complete without a mention of father, Mr George Brandreth, who worked at Cadeby colliery.
"He just switch the pleasure," says Shirley, but that doesn't stop him being a prominent member of the Denaby and Conisbrough A.S.A.committee.
Yes, the Brandreth family are well and truly "in the swim."