Mexborough and Swinton Times, May 26th.
Brick workers of 50 Years Ago.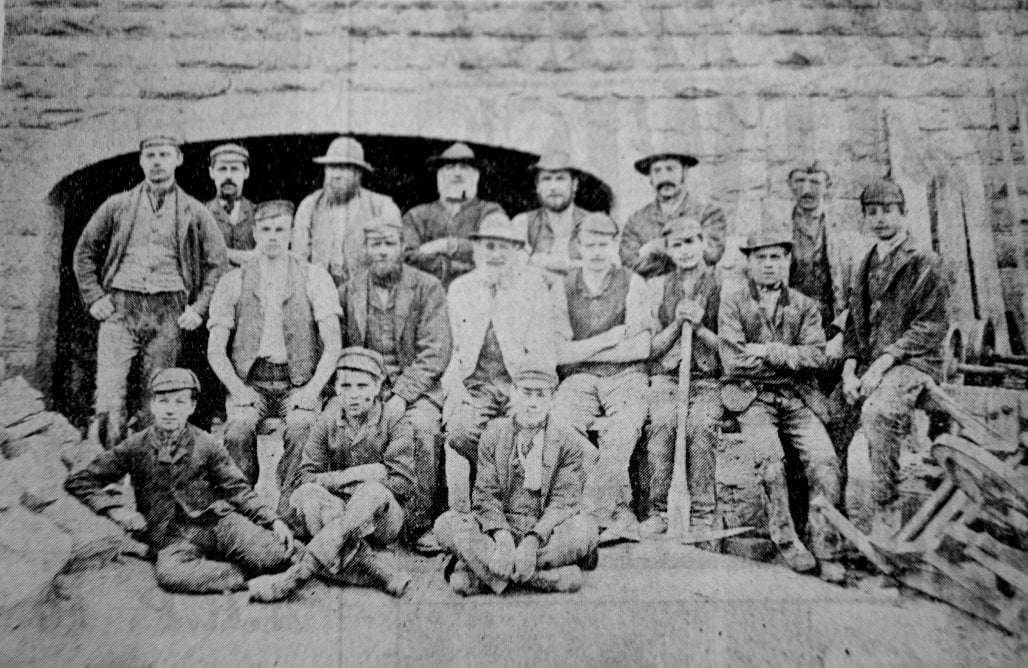 The above are a group of workers at the Ashfield Brickworks, Conisborough, about 50 years ago.
They are:
Back row (left to right) Messrs Joe Hallam, Joe Clayburn, Crabtree, Tyson, C. (Soggy) Hartley, G.Tyson, Billy Meadows and Albert Wheatley;
Middle row: Joe Smith, T.Taylor, R.Laughton, H.Mills, B.Hallam and J.Hanby.
Front: C.E.Brooks, "Chic" Taylor and H.Smith
This interestingold picture is the property of Mrs Margaret Ellis, of 24, School Terrace, Conisborough, by whose courtesy it is here reproduced.
Mrs Ellis told a "times" representative this week that she had had the photograph in their possession for 27 years, and received it from her mother, who was related to the Mr Richard Laughton seen in the middle row of the photograph.
She could not definitely say the age of the picture, but she believes that it must've been taken about 50 years ago as she also had an "In Memorian" card of Mr Lawton's death, which occurred on October 10, 1892.
Mrs Ellis's husband Mr William Ellis, whose recollections of old Conisborough were the subject of a special article in the "Times" last December, said that Messrs Joe Hallam, Billy Meadows, H.Mills (who resides in Lime Grove), B. Hallam, J Handy and C.E.Crooks were still living, but he was in doubt about, Mr H. Smith, who did not live in Conisborough very long, but moved to Sheffield.
Mr Ellis, worked for many years at the Glassworks of Messrs Kilner brothers limited, said that he had shown the photograph to Mr G Lewis, of Willow Dene, Conisborough, who had told him that the pile of stones at the left hand side of the picture. We got out for use at the glassworks, and he (Mr Ellis) said that they form part of the wall at the works on the canal side.
The Ashfield brickworks were opened by Mr Thomas Henry Simpson, but at the time the picture was taken were the property of Messrs Walker and Crawshaw, will later dispose of the undertaking to the present owners, the Yorkshire Amalgamated Products Ltd
Mr Ellis added that Mr Crawshaw, who resided at Warmsworth, was a well-known figure in the district at the time, and was in the habit cycling every day from Warmsworth accompanied by a large dog.