Mexborough & Swinton Times, December 09
Denaby Brothers
John Joseph Brooke aged 22, of 14, William Street, Denaby, a leading air mechanic was on board the Royal Oak as leading stoker when she was struck in Valencia Harbour while escorting Basque refugees from Barcelona during the Spanish war.
He joined the Fleet Air Arm in 1937, and gained the position of leading air mechanic "A". He was formerly aboard a submarine repair ship, and is at present serving abroad.
As a schoolboy, he was awarded a Royal Humane Society certificate for saving the life of a ten years old boy. He worked at Denaby Main Colliery for five years before joining the Navy.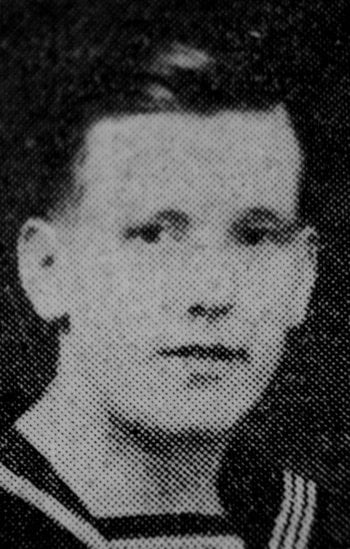 His brother, Herbert Brooke (picture) aged 20, has been in the Navy for Two years and is stationed at Singapore as leading telegraphist, where he has been for 17 months.
He gained an inter-sports medal for football while in China.
Before joining the Navy he too worked at Denaby.
Both are sons of Mr. and Mrs. E. Brooke, of 14 , William Street, Denaby.