South Yorkshire Times, February 23.
Conisbrough Panto is Gay Offering
An excellent production of the pantomime "Mother Goose" presented this week in the Church Hall, Conisbrough, is a joint effort by the, Elm Green School of Dance, Conisbrough and theTom Hill Youth Club, Denaby Main.
Presented in a colourful and almost professional style, the production shows all the signs of the hard work that has been put into it during the past six months.
Written and produced by 32 year old Eric Smith, a Conisbrough resident and Principal of the Dancing School, the presentation attains a high standard and audiences are enjoying the combination of good acting and colourful costumes.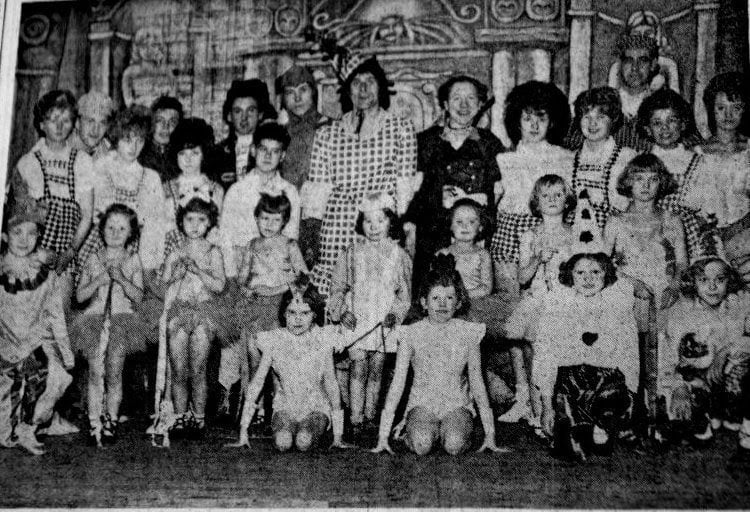 The portrayal of "Mother Goose" by Wilfred Reville, deserves special mention, for he shows real potential in the comic acting field. His spontaneous wit and lively acting aroused roars of laughter, and his two "stooges" Pip and Squeak, assisted him in the very hilarious scenes combining slapstick with wit.
The fairy Queen (Denise Polhill) had the advantage of good looks and great dancing ability, as the assistant at the Elm Green School. Her costume was a white silk with accessories.
Lack of expression was an occasional fault that was shared by one of two of the actors, including the postman, portrayed by James Foster, but his acting ability was obvious.
These are minor criticisms in a production which did full justice to the organisers and the people taking part. The players were presented attractive scenes.
Stage managers were Ernest Gwatkin, Richard Harper, John Higgins, John Stead and Michael Griffiths; and lighting was in the capable hands of Trevor Sanderson.
Made Dresses
many of the costumes were made by Youth Club members and parents of the children, under the supervision of Mesdames Smith, Watkin, Duffty and Scott.
The cast included: Eunice Gwatkin (Colin); Ruth Griffiths (Dora); Wilfred Reville (mother Goose); Eric Smith (pic); David Blackstock (squeak); Stephen Gill 50 (Baron); Eric Breach (Squire); Denise Paul Hill (Faerie Queene); John Naughton (Demon); James Foster (postman); Bernard Jones (Priscilla the Goose)
Chorus Girls : Joan Taylor, Maureen Gaskell, Patricia Robinson, Maureen Scott, Mavis Haywood and Lynne Hunsley .
Juvenile dances: Gene Faulkner, Susan Stringer, Christine Webster, Anne Webster, Janet Stringer, Carol Stringer, Judith Dudley, Judith Moxon, Jane Ball, Caroline Farmerly, Janet Firth, Susan Ward and Anna Westby.
Finally, congratulations were duty to members of the production, the pianist; Mrs D Blacklock, and the Goose, portrayed by Bernard Jones, who was a costume that would have done credit to a professional production, and performed a creditable physical fit in bending all that time !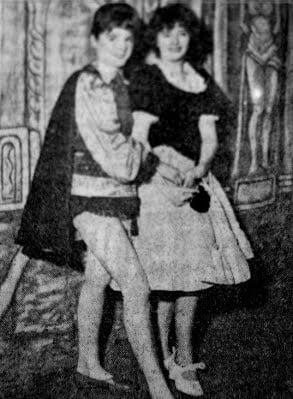 Eunice Gwatkin and Ruth Griffiths