Mexborough and Swinton Times, July 18, 1960
Denaby Baths are Popular after "Face Lift" Scheme.
More Adults Welcome.
Every month about 7000 schoolchildren from Conisbrough, Mexborough, Edlington, Warmsworth andBalby are flocking to Conisbrough Urban Council's vastly improved swimming baths at Denaby Main
They come in classes from school at the rate of up to 400 a day, but surprisingly their parents are not as quick to take advantage of the facilities of this Bath, which has just undergone a several thousand pounds." Facelift" and which the Council officials proudly claim is second to none in South Yorkshire.
This is the view of Bath's Manager and Parks Superintendent, Mr Cyril Rich, who told me, "in May 5,000 schoolchildren visited the baths. In June, the figure was 7,000. But although the children themselves are coming, I don't think their parents are using the Baths enough from the point of view of recreation and physical fitness."
He added, "if the adult population would use the baths more it might be possible to extend the present 6 to 7:30 PM, adult sessions until later in the evening."
Re-fitted.
But Mr Rich pointed out that although he would like to see more adults using the baths, which had been refitted to the tune of £2500, excluding the complete redecoration also undertaken, the adult attendance figures have gone up, largely as a result, he says, of the renovation.
Total attendance last year was 74,390. The total so far this year is 36,277, which seems to represent a slight increase.
"Swimmers come from all the surrounding district; not just from Denaby, but from Mexborough, Swinton, and even Doncaster," said Mr Rich.
One of the most popular sessions is the newly introduced parents and children period from 1015 to 1145 on a Sunday morning. When it started last year it drew 84 adults and 119 children. Now, as many as 160 adults turn up and nearly 200 children.
Non-Slip Tiles.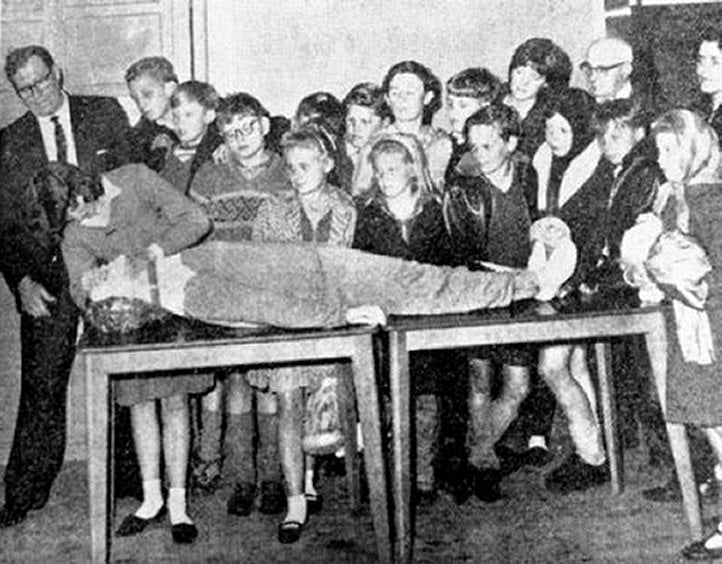 The bath's refit has included the provision of a new white tiled surround, and special non-slip tiles. Indeed the facilities are smart enough to put many a city bath to shame. New cubicles are also planned.
The latest addition to the equipment is a "kiss of life" demonstration model, bought by Conisbrough Urban Council for the use of the 300 strong Denaby and Conisbrough's Swimming Club, which has its headquarters there, and many other organisations who want to instruct members in the latest life-saving technique.