Another Denaby Forward Transferred to Birmingham
Tunstall´s Brother in Law
The latest football player to be transferred from this district is Richard Briggs, Denaby United´s, inside right.
The transfer fee has not been stated but if Denaby have anything like the value for him it will mean a substantial sum into the club funds.
19 year old Briggs is an exceptional football talent with a symmetrical physique for a forward. He stands 5ft 7inches high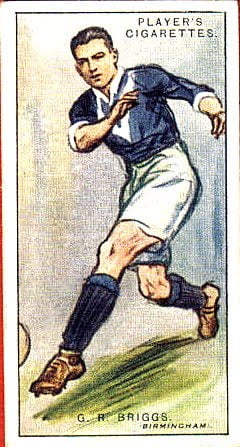 From Wikipedia:
http://en.wikipedia.org/wiki/George_Briggs_(footballer))
George Richard Briggs (born 3 May 1903, deceased) was an English professional footballer , born in Wombwell , near Barnsley , South Yorkshire , who played as a forward or outside right for Birmingham and Plymouth Argyle .
Formerly a coal-miner, Briggs joined First Division Birmingham from Midland League Denaby United in December 1923.
In 1924-25 , his first full season at the club, he was joint top scorer. He was used in all forward positions before settling as an outside-right, the position in which he played in the 1931 FA Cup Final defeat. In all he made 324 appearances for Birmingham and scored 107 goals, which ranks him fourth in the club's all-time top scorers table.
In 1933 he moved to Plymouth Argyle where he spent three seasons. He died in his native Yorkshire .