South Yorkshire Times June 22.
Denaby Jockey outstrips Odds on Favourite
Johnny Marston romps home on "Early Bid" at Sandown.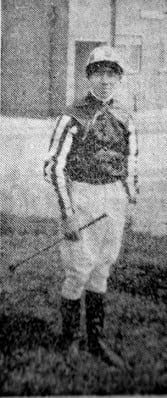 Johnny Marston, the 20 years old Denaby apprentice jockey, rode the race of his life and caused a sensation on Saturday's in the five furlong Kingston Plate at Sandown, outstripping odds-on favourite Ocean Diamond, ridden by champion jockey Arthur "Scobie" Breasley, in the last three furlongs from home.
Johnny,who hasbeen riding since 1959, and who is in the Ken Cundall stable in Berkshire, was riding Early Bid, his 13th mount of the season. This win was even more astonishing as it was the first time he had ridden this horse. Perhaps a good omen for things to come came the previous night when he rode a 20-1 chance into third place.
His mother, Mrs May Marston, of 91 Clifton Street, Denaby, told me that this was his first ever winner in front of the television cameras. "We thought they brought him bad luck up until Saturday," she added.
"We watch him every time he is on television, and every one in the village has a "flutter" when he is riding, not because of the horse, but because of John"
Mr Marsden said that on Saturday. She told her husband that she could picture the sensation in the newspapers if John won.
She and her husband, miner Richard Marston, keep a scrapbook, of all their sons races, winners and losers, and all the newspaper clippings.
For Johnny, who had never ridden a horse until he entered his apprenticeship five years ago, and became a jockey because the idea was put in his head by people who said that he was small enough to be one, this was the greatest ride.