Mexborough & Swinton Times, November 11
Still Winning Prizes
Denaby Man in Canada
Expert Gardener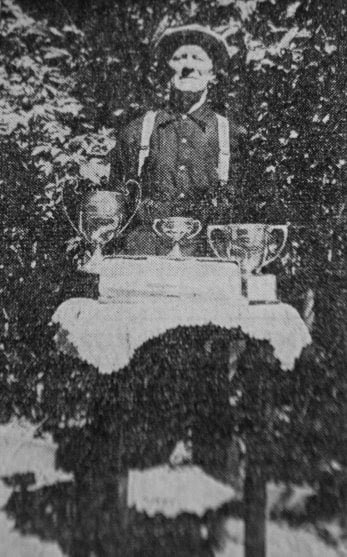 Lovers of flowers and fine garden produce in the Conisborough urban district about 20 years ago, must remember Mr. John Thomas Clayton, of Wheatley Street, Denaby, and most of all they must recall the wonderful blooms among which he spent so much of his time.
About 20 years ago, Mr. Clayton left with his wife and family of two daughters and son for Belle Vue, Alberta, Canada, and apparently he continues to enjoy as much success in his new surroundings as he had at Denaby.
Mrs Arthur Jenkinson of Park Road, Conisborough, a sister-in-law of Mr Clayton has received a copy of the "Blairmore Enterprise" a newspaper circulating in the Bellevue district, and marked in the paper is a report of the annual show of the Bellvue and District Horticultural Industrial and Poultry Society, which reveals that Mr Clayton heads the list of awards with 49 prizes to his credit, and that he also won the society´s cup for the most points in the outdoor grown class. Chief honours had come his way through his favourite African marigolds and dahlias (his speciality when he was in the Conisborough urban district).
Mr. Clayton, who also lived when in England at Swinton and Piccadilly, was at that time a member of the Hallamshire Harriers, and combined with outstanding success his talents in running and in growing flowers, with the result that his home was full of medals, cups and other trophies. He was a well known figure at Wath and Maltby athletic events
Mr. Clayton worked at both the Denaby and Cadeby Main Collieries and finished at Denaby when he left for Canada. He was a son-in-law of the late Mr. and Mrs T, Senior of Park Road, Conisborough and Mr. Senior will be remembered as having been a sergeant in the Conisborough Fire Brigade for many years.
Mrs. Jenkinson told the "Times" this week that her brother-in-law continued with his mining work when he went to Canada, but she was not quite sure in what type of mining Mr. Clayton was engaged. He would now be about 60 years of age.
A number of photographs have been sent over from Canada and one of the pictures shows Mr. Clayton among a group of his dahlias and some estimate of their size can be gathered from the fact that only his head and part of his shoulders can be seen above them! Our photograph accompanying this story (taken in August 1937) shows Mr. Clayton with his winnings for the previous year.
Although he is separated from his former home by thousands of miles, Mr. Clayton is by no means an exile in the sense that he has lost touch with his homeland, because every week he receives his copy of the "South Yorkshire Times", and looks forward, we are told to the Conisborough and Mexborough notes.