Gordon Harrison, 1 Rock Terrace, Conisbrough.
I refer to your stories from 1914 in the December 2013 issue of Conisbrough in focus. I have a story of my father to relate.
The story is of his early life, including service in the York and Lancs Light Infantry during World War I.
As a boy of 11 years of age he and his father and two brothers worked on the land in Bucks for Lord Rothschild, who collected animals for the London zoo. The Lord had put some money into the coal mines of South Yorkshire during the late 1890s. As there was more money to be earned working in the pits they left my grandmother and a sister in Bucks and hitch hiked to Conisbrough. They began work at Cadeby colliery around 1903.
By 1905, my Grandad and his two older sons went back home to Aylesbury and back onto the land, not to be seen again in the North until 1913.
My father married my mother in 1908 and my eldest sister was born in 1909.
On 10 December 1915 Private 73739, Harrison, George Henry, of Burcroft enlisted with the second Yorkshire Light Infantry and went off to war with his two brothers who had also enlisted into the Yorkshire Regiment. I know nothing about his two brothers until after World War I had ended. But my eldest brother, who worked down Edlington Pit passed on stories of my dad's exploits in Europe. I have his paybook and medals in front of me at the time of writing.
George Henry was posted to fight in the trenches of the Somme, surviving quite a few of what were known as the "Pals Big Pushes" against the hun.
In the trenches during 1917 the men tried not to use the trench as a toilet (only when under fire). In a letter to my mother he explained that during a lull in the bombardment he scrambled up to an orchard a few yards away from the trench and whilst taking a `comfort break´ the guns began firing again and as he got up to run back to the trench, a piece of shrapnel caught him on his bare bottom flinging him back into the trench. A medic applied a plaster bandage and he was reclassified as `a walking wounded´. Because of this he got a job as an Officer's batman and cook plus messenger boy, to enable him survive the rest of the Great War.
He arrived home in 1919 with scars and medals to prove it. According to his demob certificate he was on the Army Reserve List from 29th of January 1919, up to his re-enlistment in 1940.
During the years from 1919 to 1940 he had a couple of jobs, carrying out shot firing in the Conisbrough Brick Yard quarry at the bottom of Clifton Hill, and later in the CadebyQuarry now known as Steetley at Sprotborough. In his spare time he, my mother and my brothers and sisters helped to manage the Burcroft Boat Hiring Co. owned by a man from Sheffield, who only visited it on a sunny Sunday. The rest of the time it was my mother's job while dad was at work.
Incidentally, I did not know my father until I was seven years old as I was born in late 1938.
My elder brother was sent to Burma during 1939 and did not get home until 1948 as he volunteered to go back into the Burmese jungle with a regiment of men, led by Gen Wingate, to find the lost Japanese soldiers and convince them that the war was over.
It was on 14 June 1940 that my father re-enlisted as a volunteer; as he was over 45, he could not be conscripted. His new Army number was 13039009 and he was joined into the Pioneers 70 company and was posted to Dover in Kent in 1941. The Pioneer Corps were attached the Royal engineer's and were sent on a top-secret mission called PLUTO to get the fuel lines across the English Channel from Dover Castle, the main supplier depot.
The French had installed a underground fuel tank a few miles from the proposed Normandy Landing Beaches. Operation PLUTO was carried out under complete darkness and silence. When the pipes were towed a distance out another section was coupled into place until the entire channel had an underwater tube carrying petrol and diesel into France without the Germans or the spies knowing, making the 70 company Pioneer Corps the first men on to the Normandy beaches.
http://en.wikipedia.org/wiki/Operation_Pluto
Later my dad went back to France and Belgium supporting the Royal Engineers building Bailey Bridges to keep the fighting men supplied during the "D" Day landings. He just carried on shot firing as he did in `civvy street´, between the wars. He was demobbed on 27th of June 1945. I also have his medals and pay book.
I am now 75 years old and did my National service in 1957/59. It was only when I received my `call up´ papers that I questioned my dad about Grandad and my uncle and sister. He said Grandad had passed away during 1940 and he did not know about his sister and his mother had died a long time ago.
He did tell her that during the 1920s his brothers both came to Conisbrough, dressed in the uniform of what was known as the Black and Tans and they were going to Ireland to fight the IRA. Dad said he went back to work in a brickworks at the quarry. He told me that they had a tough time on the Somme and like himself got through it. But the IRA shot them after only couple months in Ireland.
This is a very true life story of George Henry Harrison, who died in 1967, aged 76 years. Born in Bucksand died in Conisbrough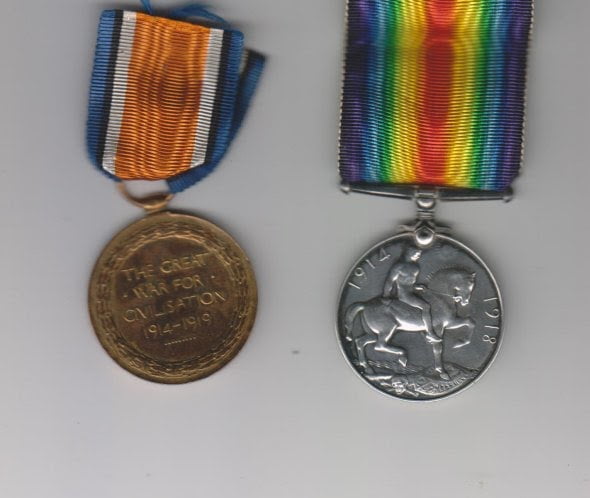 Postscript South Yorkshire Times, September 19, 1964.
He was in the "D" Day landings.
In the company of their three sons, three daughters, 21 grandchildren and 10 great-grandchildren, Mr and Mrs George Henry Harrison, of Northcliffe road, Conisbrough, celebrated their Golden wedding on Saturday.
Mr Harrison (72) a former Baker and Bessemer worker, and his wife, Mrs Evelyn Harrison (68) were married in Conisbrough and have lived there all their married lives.
Mrs Harrison was born at Old Hill. Her husband originates from Bucks. Mr Harrison, who retired at 67, served with the K.O.Y.L.I. in France and Germany during the First World War, with the Pioneer Corps during the last war and was present at the Normandy "D" Day landings.