Mexborough & Swinton Times December 28, 1940
"Father of the Regiment"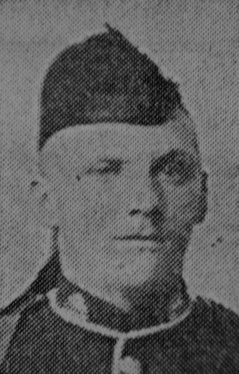 To have gone through two wars without a scratch, and to be doing his bit in the present war is the fine record of Corporal E. Green, Denaby Avenue, Conisborough, who is a member of the Conisboro´ Home Guard.
At the age of 65 he has been Christened "Father of the Regiment" by his fellow members. So far he has not missed a single parade or duty.
A native of Buckland, Farringdon, Berkshire, he visited London on January 18 th 1893, and stood admiring posters outside one of the many recruiting offices. Keen on joining the Artillery, he walked into the office and was surprised to learn that after he had gone through all the ceremony, he had enlisted in the Royal Berkshire Regiments 49 th Division.
Two years later the Regiment embarked at Liverpool. Leaving the shores of England the boat called at Bermuda, Halifax, Nova Scotia, Jamaica, St. Lucia (West Indies), before returning to Portsmouth. After a brief stay at the southern port their next port of call was Gibraltar. During their encampment beneath the Rock, the Boer War broke out and orders came through for them to move. However, on the way to Port Said, the Boat called at Taranto, Italy, and here it was found that all the stokers aboard were ill. Volunteers were called for to replace the sick men.
Corporal Green was one of those who answered that appeal, and for his services the ship´s captain presented him with £5. The fighting in Africa ended in 1902, and twelve months later Corporal Green found himself in another sphere of Army life by taking an interest in the cookhouse and before many months had passed was appointed chief cook to the Division. Corporal Green can still prepare a seven course dinner for anyone.
September 1914 arrived and once again the Royal Berkshires went to France. After 2 1/2years a break came their way and they found themselves in Egypt, and here Corporal Green was placed in charge of twelve Indian Cooks, who had to look after their own officers.
In 1919 Corporal Green received his discharge, which brought him to Conisborough among his own relatives to obtain work at Kilner´s glassworks, which closed down in 1936. He recalls the visit of the Kaiser to England. Corporal Green was one of 240 Soldiers who formed a guard of honour at the quayside when he landed.
"Army life to-day differs from that of my day", said Corporal Green. We received 8d. a day, and when the Colour Sergeants had done with you there was not much left to spend, but after all Army life is good".