Mexborough & Swinton Times, October 05
Mr. P. E. Marshall (Denaby) and Miss P. Brewster (Conisborough)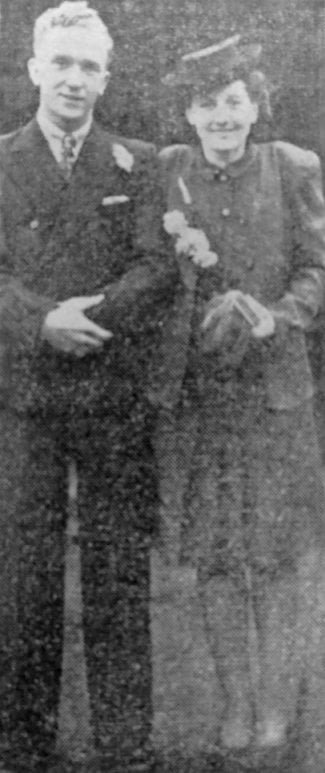 The wedding took place at Conisborough Parish Church on Saturday of Mr. Philip Exley Marshall, only son of Mr. and Mrs. Wm. Watson Marshall, of the Mining Offices, Denaby and Miss Phyilis Brewster, only daughter of Mr. and Mrs. Wm. Brewster of "Brentwood", Doncaster Road, Conisborough.
The bride, who was given away by her father, was dressed in a white satin gown cut on mediaeval lines, and also wore a veil of tulle and a wreath of gardenias and stephenatis. She carried a bouquet of orchids, stephanotis, gardenias and white heather and was attended by Mrs. Freda Emmott and Misses F. Dorothy Kirk and Barbara J. Richardson, all of whom were dressed in blue spotted net over a taffeta, with sashes of pink velvet and headdresses of blue net. They carried pink roses and received gifts of powder compacts from the bridegroom. Mr. Harold A. Whittel (Heckmondwike) was best man and Messrs. John W. Keeling and Mr. Allan L. Emmott were groomsmen.
The service was choral, Mr. Norman F. Knight being at the organ and the hymns "Lead us Heavenly Father, Lead us", and "The King of Love My Shepherd is" being sung
After the ceemony a reception was held at the Star Hotel, Conisborough, by the bride´s mother, who attended the wedding in a dress of rose figured cloque under a coat of navy French lace, with hat to tone: she carried carnations. The bridegroom´s mother was in a black lace dress with a hat to match, trimmed in flame. She carried flame roses.
Later Mr. and Mrs. Marshall left for a short honeymoon, the bride travelling in a two piece in sage green trimmed with leopard skin, with hat, shoes and gloves to tone. The bride is a member of the staff at the Conisborough Girls Modern School and from her colleagues she received a Ray Loom bedroom chair, and numerous gifts from scholars.